Washington Nationals: Breaking Down Wilson Ramos' Injury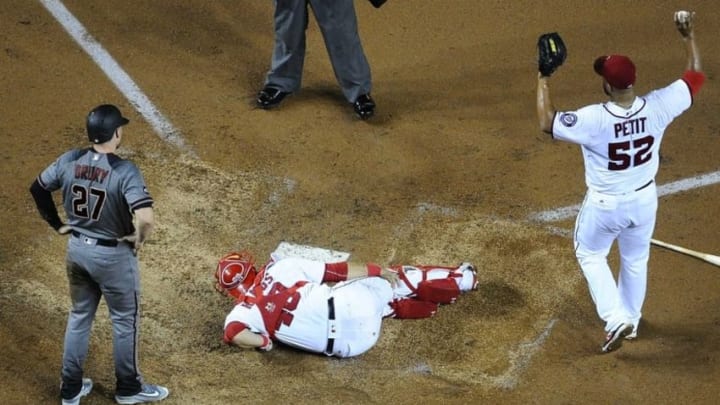 Sep 26, 2016; Washington, DC, USA; Washington Nationals catcher Wilson Ramos (40) lays on the ground after suffering an apparent right knee injury against the Arizona Diamondbacks during the sixth inning at Nationals Park. Mandatory Credit: Brad Mills-USA TODAY Sports /
Mandatory Credit: Charles LeClaire-USA TODAY Sports /
The effects of Washington Nationals catcher Wilson Ramos' torn right ACL go well beyond the upcoming playoffs.
Washington Nationals catcher Wilson Ramos' 2016 season ended Monday night when his surgically repaired anterior cruciate ligament tore again inside his right knee.
This injury, bad enough as it is, could not have come at a worse time for the Nationals or Ramos. The effects of which will stretch well into next summer.
Ramos was in the middle of a career year. From games played to batting average and home runs, this was his best season. One so good, it earned him a trip to San Diego for the All-Star Game.
For the Nationals, this is more than a mere injury to a good hitter, but a body blow going into the playoffs they can ill afford. Outside of Bryce Harper or Max Scherzer, losing your catcher at this point changes everything.
At this point, the Nationals are certain Harper will return soon. They are hopeful Daniel Murphy will return from a glute strain for the playoffs. Washington is doubtful Stephen Strasburg will be ready for the National League Divisional Series.
With all that on the table, losing Ramos on top of everything casts more doubt for what lies ahead.
The answers to all the questions buzzing around the Anacostia River are complex. With a mid-summer 2017 return, they go well beyond wherever this season ends and into next.
From his future to the Nationals, here are the three biggest issues following Ramos' injury.