Washington Nationals: Who Is Catching When It Counts?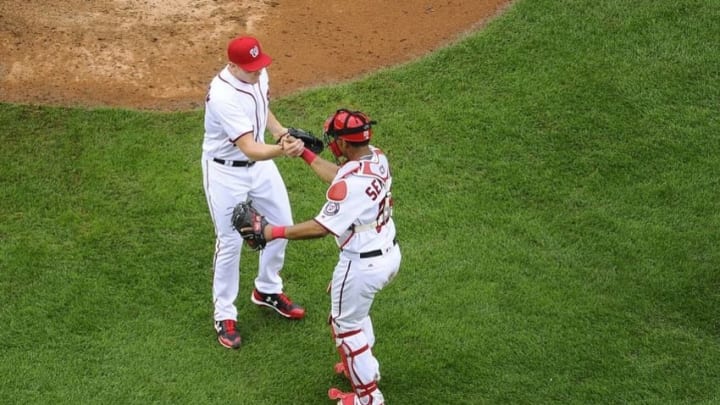 Sep 29, 2016; Washington, DC, USA; Washington Nationals relief pitcher Mark Melancon (43) is congratulated by catcher Pedro Severino (29) after earning a save against the Arizona Diamondbacks at Nationals Park. Mandatory Credit: Brad Mills-USA TODAY Sports /
Mandatory Credit: Geoff Burke-USA TODAY Sports /
One of the Washington Nationals biggest offseason questions does not have an easy answer. It may not until mid-season.
The Washington Nationals start the second half of the 2017 season at Great American Ballpark against the Cincinnati Reds.
Imagine, if you will, the Nats are in a tight race for the National League East with the New York Mets and a dogfight with the St. Louis Cardinals, San Francisco Giants and others for a Wild Card spot. Unlike 2016, Washington's playoff fate is uncertain, destined to run all the way through a long, hot summer.
Who is catching that first game after the All-Star Break in Cincinnati?
With Brian McCann traded from the New York Yankees to the Houston Astros and Jason Castro spending the next three years with the Minnesota Twins, who is behind the plate next year is a valid question.
There are other options besides McCann and Castro both on the free agent market and internally. Since no names are on the list of hot rumors at the moment, either something is quietly being worked on or the Nationals will spend their $20 million in extra payroll elsewhere.
Why are we looking to July? It is conceivable Washington starts the year with a mix of Pedro Severino and Jose Lobaton like they were forced to use in the playoffs. As what happened this year with Jonathan Papelbon, the powers that be realize it is not working and need to make a move.
Or, they work out a short-term deal with a popular free agent and he starts the crucial second half after recovering from a torn ACL.
Washington can make a move now for a 2017 catcher, or wait. Here are the five candidates most likely to start the second half pennant drive.