Washington Nationals 2018 MLB Draft Profile: Noah Naylor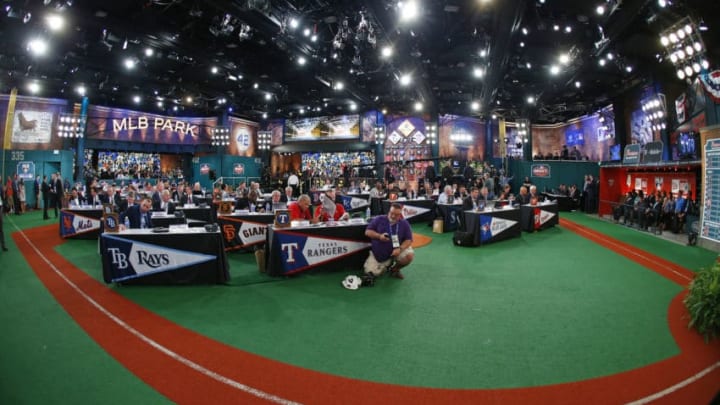 SECAUCUS, NJ - JUNE 5: Representatives from all 30 Major League Baseball teams fill Studio 42 during the MLB First-Year Player Draft at the MLB Network Studio on June 5, 2014 in Secacucus, New Jersey. (Photo by Rich Schultz/Getty Images) /
District on Deck 2018 MLB Draft SZN continues as we look at prospects the Washington Nationals may draft in the first round. Next up is catcher Noah Naylor.
In our first two 2018 draft profiles, we've had the Washington Nationals sticking to their tried and tested formula. But this time, we look at them selecting a talented hitter, in Noah Naylor out of St. Joan of Arc High School.
He is the younger brother of San Diego Padres first base prospect, Josh Naylor. And in a lot of ways, has a very similar offensive profile to his brother, with some exceptional raw power.
But one thing Noah has that his brother doesn't, is the ability to play a premium position, catcher. He has a cannon of an arm, that was on full display in the PG All-American Classic at Petco Park.
More from District on Deck
He'll need to work on his receiving ability at the next level, but hopefully with the right coaching he could stick behind the plate. Remember, he would still be an extremely young catcher with potential to learn.
But if teams draft him high, they'll believe in his bat getting to the majors, regardless of position, although they'd prefer it at catcher.
Many scouts believe that Nolan Gorman, projected to go top 15, is the best power bat in this draft. But Naylor actually beat Gorman in the annual High School Home Run Derby at Marlins Park last All-Star break.
Obviously, the Nationals do have a potential need at catcher in the not too distant future. Matt Wieters is out of contract in the winter, and unlikely to return, plus Spencer Kieboom doesn't appear to be a long-term solution.
So that leaves only Pedro Severino and Raudy Read as the current realistic catching options. Severino has established himself as a reliable option so far in 2018 and will be under contract through 2023.
Read on the other hand has a lot more question marks about him. The Nationals would've hoped to have him on the major leaguer roster this season, but that was derailed by an 80 game suspension. But even then he only has a .253 career batting average and has never been the finest defensively.
This situation would allow them to slowly bring on Naylor as a nice pairing to Severino, while Read fills in. Obviously, high-school catchers notoriously take a long time to make their way through the minors with so much to learn.
For example, Joe Mauer was taken in the first round of the 2001 MLB Draft out of high school. It took him until the very end of the 2004 season to make the major leagues, and this is likely the best case scenario for a high school catcher.
Next: 2018 Draft Profile: Mason Denaburg
Noah Naylor would be a great addition to the Washington Nationals, should they plan to take a bat in the first round. And regardless of if he sticks at catcher, it's a bat that will make it to the major one day.