Washington Nationals: The organization's best prospect at each position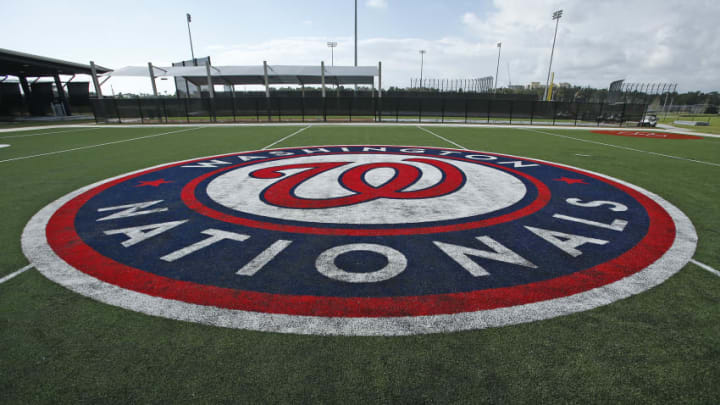 WEST PALM BEACH, FL - FEBRUARY 28: The Washington Nationals logo on one of the practice fields at The Ballpark of the Palm Beaches prior to a spring training game against the Houston Astros on February 28, 2017 in West Palm Beach, Florida. (Photo by Joel Auerbach/Getty Images) /
(Photo: Rob Carr of Getty Images) /
Left Field – Telmito Agustin
Next up: Chuck Taylor, Yadiel Hernandez, Austin Davidson
While the Washington Nationals are strong in the corner outfield spots in the major leagues, that's not necessarily the case in the minors. That could change if some of the centerfielders move to the corners, but until then Telmito Agustin might be the best corner outfielder in the system.
Agustin flashed some solid potential in 2018, posting a .302/.368/.454 slash line and five home runs with the Potomac Nationals. While it looks as though he has a bit more raw power he can tap into with his frame, he rolls over a lot of balls and keeps it on the ground more than he should.
If he can tap into a bit more of that power moving forward, then it's possible Agustin could become similar to the recently traded Daniel Johnson. Johnson won the organization's minor league player of the year back in 2017, and Agustin has the same ceiling if he can figure it all out.
Agustin was eligible for the Rule 5 Draft this offseason, but the Nationals decided to leave him unprotected. Thankfully, no rival team claimed him, likely because he's still a fair way off the majors, which should give him a chance to build on his positive 2018 season.
The rest of the left field depth is mostly fringey prospects. On-base machine Chuck Taylor is a recent Triple-A Rule 5 draft selection from the Seattle Mariners but doesn't have much power to go with it. Yadiel Hernandez came over from Cuba as a 30-year-old but has flashed nice tools, and Austin Davidson is a versatile late bloomer who made it to Double-A last season.