Washington Nationals: Can Max Scherzer Get Even Better?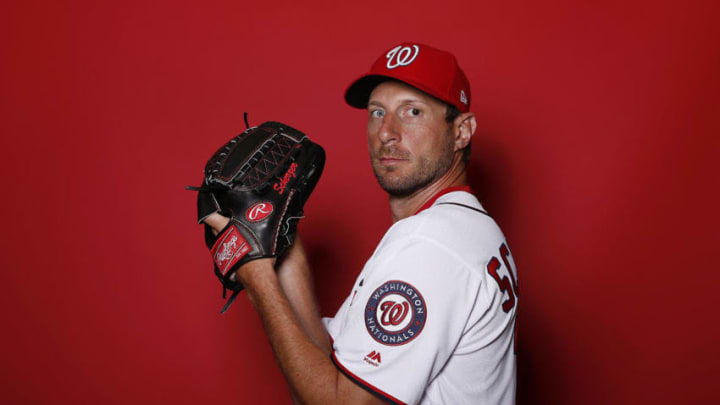 WEST PALM BEACH, FLORIDA - FEBRUARY 22: Max Scherzer #31 of the Washington Nationals poses for a portrait on Photo Day at FITTEAM Ballpark of The Palm Beaches during on February 22, 2019 in West Palm Beach, Florida. (Photo by Michael Reaves/Getty Images) /
The Washington Nationals have relied on Max Scherzer to anchor their rotation for four years.  Is it possible that, in year five, Scherzer will be even better?
If one were given three words to describe Washington Nationals pitcher Max Scherzer, "Hall of Fame" are three great choices.
Scherzer has been nothing short of legendary since joining the Nationals in 2015.  In his four years in D.C., Scherzer has just under 900 innings pitched with a 2.71 ERA and a 0.926 WHIP.
He has racked up four all-star appearances, two Cy Young awards, two no-hitters, and lots and lots of strikeouts (1,128 to be exact).
Scherzer has accumulated these gaudy stats and accolades all in his 30's.  This summer, he will turn 35.  Despite Scherzer getting closer and closer to father time, is it still possible for him to keep improving?
It's pretty hard to keep improving at Scherzer's age, but he has.  Scherzer has maintained his status as the National League's best pitcher, finishing 1st, 1st, and 2nd in the last three Cy Young Award votings.  The only reason he didn't win last year is that Jacob deGrom had one of the best single seasons by a starting pitcher in MLB history.
Scherzer's WAR has increased each of the last three years, finishing with a 7.2 mark last season, the best in baseball by a pitcher not named deGrom.
Scherzer's trademark quality, his strikeouts, have improved each year as a National.  In 2015, he struck out a hair under 11 batters per nine innings.  Last season, he fanned over 12 batters per nine innings.
Scherzer's mark of 12.24 K/9 ranked 2nd in the MLB behind Gerrit Cole, and only Scherzer, Cole, and Justin Verlander had K/9 ratios above 12.
With all of this said, what is stopping Scherzer from repeating his success as a National?
There are a few obstacles he will need to hurdle.
For one, his BABIP as a National, just above .260, is below the league average which means he's getting a bit lucky on the balls his opponents actually make contact with.  Eventually, that will regress to the mean, and more balls put in play will start finding the outfield grass rather than a leather glove.
Secondly,  the N.L. East got much tougher this offseason.
The Philadelphia Phillies added Bryce Harper and Andrew McCutchen.  Also, J.T. Realmuto swapped N.L. East teams and enters this lineup in which he'll be in a position to regularly drive in runs.
The Atlanta Braves' budding stars, Ronald Acuna Jr. and Ozzie Albies are each one year older, and now they are joined by former American League MVP Josh Donaldson.
Plus, the New York Mets added Robinson Cano and Wilson Ramos to a lineup with Michael Conforto and Yoenis Cespedes.
Without a doubt, Scherzer's path to a fourth career Cy Young award got tougher over the last four month.
However, if there is one pitcher in the MLB able to overcome these challenges, it's Scherzer.