Washington Nationals: Narratives Abound with Phillies in Town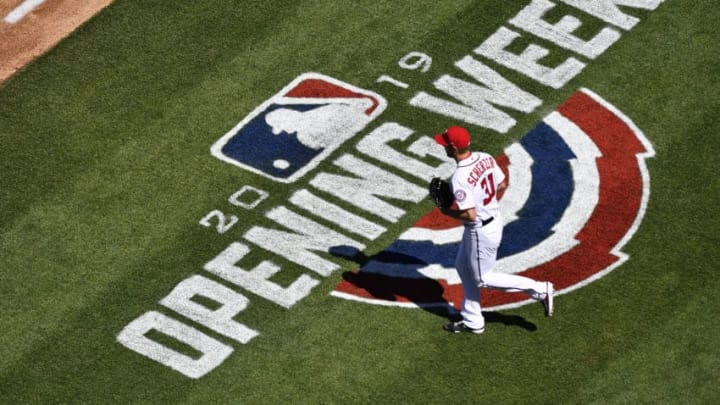 WASHINGTON, DC - MARCH 28: Max Scherzer #31 of the Washington Nationals takes the field before the start of the first inning against the New York Mets on Opening Day at Nationals Park on March 28, 2019 in Washington, DC. (Photo by Patrick McDermott/Getty Images) /
The Washington Nationals play host to the Philadelphia Phillies who are 3-0 to start the season.  The Nats must stay focused amid the narratives.
The Washington Nationals open the 2019 season with a five-game homestand.  With three down and two remaining, the team turns its attention to the Philadelphia Phillies.
Let's just address the 330 million dollar elephant in the stadium: Bryce Harper is making his return to Nats Park.
J.P. Morosi of MLB Network reported that Harper is expected to make a formal statement to Nats fans today, something he did not do upon signing with Philadelphia.
Per Nationals Public Relations, Harper will be made available in the press conference room at 3:00 p.m. this afternoon.
However, all eyes will be on Harper as Nationals fans got the dream matchup they've been waiting all month for: Max Scherzer on the mound against Harper at the plate.
"This is just round one," Scherzer told The Washington Post.
Scherzer is approaching this game the right way.  It's one game against a division rival, and that's exactly what the Nats mindset needs to be tonight and Wednesday afternoon.
The Nationals are 1-2 and are already showing signs of leakage.  The bullpen is already imploding, and Victor Robles and Trea Turner are carrying the offense.
As good as Robles and Turner are, it goes without saying they are not going to hit .400 for the rest of the season.
If the Nats are not careful or focused, Philadelphia can steamroll the Nats in these two games.
Aaron Nola will face Anibal Sanchez on Wednesday which is a massive advantage for Philadelphia.
Scherzer's opponent tonight, Zach Eflin, is certainly no slouch either.
Last season, Eflin posted a 4.30 ERA with a 3.80 FIP.  He is extremely tough on right-handed hitters, limiting them to a .667 OPS last season.
The 2019 season is only three games old, and the Nats are already playing in a crucial series.  Winning this series will do wonders for the team's and fanbase's confidence.  Losing will only sow more doubt.