Washington Nationals: Nationals All-Star Pitching Candidates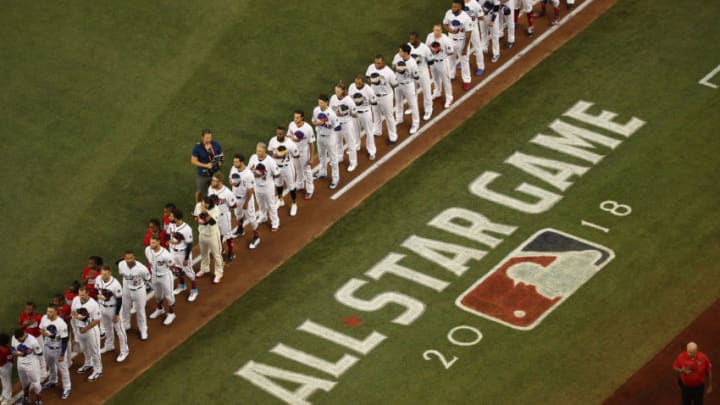 WASHINGTON, DC - JULY 17: Players line up for the national anthem prior the 89th MLB All-Star Game, presented by Mastercard at Nationals Park on July 17, 2018 in Washington, DC. (Photo by Win McNamee/Getty Images) /
The Washington Nationals have no shortage of pitching options on its roster.  Which pitchers are on their way to Cleveland for the All-Star game?
The Washington Nationals season is not even one-fifth of the way complete, but it is never too early to discuss the All-Star Game.
Last season, the Nationals were represented in their home ballpark by three players: Bryce Harper, Sean Doolittle, and Max Scherzer.
In 2017, the Nationals sent a franchise-record five players to the game: Harper and Scherzer went along with Daniel Murphy, Ryan Zimmerman, and Stephen Strasburg.
This season, the Nats have a strong chance to send a strong group of stars to Cleveland, Ohio, for the 2019 MLB All-Star Game.
As a team, the Nationals have struggled, going 13-18 over the club's first 31 games.  It's evident that the Nationals are worse than the sum of its parts, but some of those parts are playing extraordinarily well.
The All-Star Game is great to highlight exemplary efforts from players on teams that are struggling.  The game gives the players a moment in the spotlight, whereas they might not get it as part of a below average team.
The crowned jewel of the Nationals is the starting pitching, as it has been for the team's best seasons.
Starting with Jordan Zimmerman and Gio Gonzalez, to Scherzer and Strasburg, and now Patrick Corbin, there is no shortage of great pitching on the Nationals.
That trend remains constant this season, as there are several Nationals pitchers who got out of the gates hot and have made an early case for the Midsummer Classic.