Washington Nationals: Nationals All-Star Pitching Candidates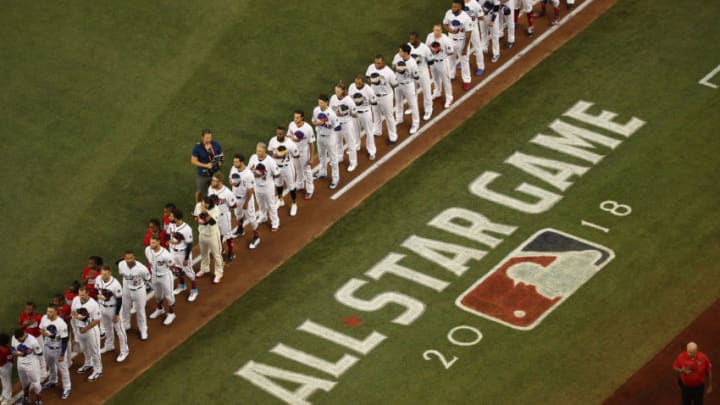 WASHINGTON, DC - JULY 17: Players line up for the national anthem prior the 89th MLB All-Star Game, presented by Mastercard at Nationals Park on July 17, 2018 in Washington, DC. (Photo by Win McNamee/Getty Images) /
washington nationals /
Relief Pitcher Sean Doolittle
Last on our list, and the last pitcher on the mound at the end of games is Sean Doolittle.
A true marker of consistency, Doolittle is as reliable as relief pitchers get in the ninth inning.  With the Nationals, Doolittle has saved 50 games and only blown the save three times.
This season, Doolittle has been overworked to an extent, but still is pitching incredibly well.  He was once used 13 times over a 24 game stretch, but still posted a 1.35 ERA and 31% strikeout rate in that span.
Doolittle made his first All-Star team back in 2014 with the Oakland Athletics.  As mentioned earlier, he made last year's team with the Nationals.
Since the trade from Oakland, Doolittle has established himself as one of baseball's best relief pitchers, and a third All-Star appearance would only solidify his position.
With the rest of the bullpen starting to round into form, Doolittle may get more of a break between outings.  This might make him an even more effective and efficient pitcher if that is even possible.
If the offense can start picking things up, it will create more save opportunities.  Doolittle's four saves slot him outside of the top 20.
Nats fans know that is not his fault.  When given the opportunity to save a game, Doolittle shuts it down.  Perhaps he'll get a chance to do that in Cleveland in July.