Washington Nationals: Top Five Late Inning Grand Slams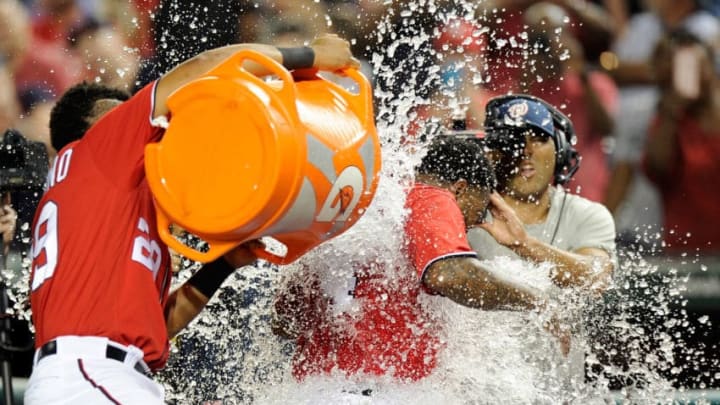 WASHINGTON, DC - AUGUST 13: Howie Kendrick #4 of the Washington Nationals gets doused with water after hitting the game winning grand slam in the 11th inning against the San Francisco Giants during Game 2 of a doubleheader at Nationals Park on August 13, 2017 in Washington, DC. Washington won the game 6-2. (Photo by Greg Fiume/Getty Images) /
washington nationals /
The Washington Nationals beat the Dodgers on Saturday after hitting a grand slam.  How does it compare to other late-inning slams in Nats history?
Gerardo Parra's grand slam homer in Saturday's Washington Nationals win at Dodger Stadium was the 58th bases loaded four-bagger in Nats' history, but not all grand slams are created equal. Parra's dramatic blast was only one of 11 that was hit in the seventh inning or later when the Nats were either behind or tied in the game.
Time will tell whether the newest Nationals' heroics will spark the 2019 Nats out of their early-season doldrums. If so, the homer may take its place among the biggest late-inning grand slams in team history. There have been some dramatic ones over the years, and today we're looking at the top five late-inning grand slams for the Nats.
#5 — Howie Kendrick Walks-Off the Giants
Day/night doubleheaders are grueling at best and when bad weather is involved, getting through the day is even more of a chore.
After losing the first game of the twin bill by a 4-2 count to the San Francisco Giants on August 12, 2017, the division-leading Nationals looked to rebound in game two behind ace right-hander Max Scherzer. Scherzer did his part, striking out 10 Giants' hitters over seven innings pitched, but left with the score tied at 2-2.
Both teams were scoreless from innings eight through ten, but Washington's bats woke up in the bottom of the eleventh off of Giants' lefty Albert Suarez. After Daniel Murphy and Ryan Zimmerman singled to start the inning, Anthony Rendon was walked to load the bases for veteran Howie Kendrick. Needing only to plate one run to put a curly W in the books, Kendrick did that four times better by drilling the ball over the wall in deep left-center to give Washington a 6-2 win.