Washington Nationals: Top Five Late Inning Grand Slams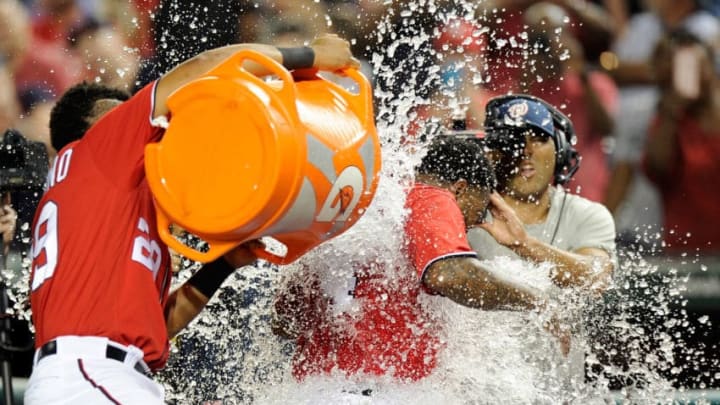 WASHINGTON, DC - AUGUST 13: Howie Kendrick #4 of the Washington Nationals gets doused with water after hitting the game winning grand slam in the 11th inning against the San Francisco Giants during Game 2 of a doubleheader at Nationals Park on August 13, 2017 in Washington, DC. Washington won the game 6-2. (Photo by Greg Fiume/Getty Images) /
washington nationals /
#4 — Werth Flips on the Fish
By the bottom of the eighth inning on April 9, 2014, Miami Marlins' manager Mike Redmond had seen his team's early 5-0 late reduced to a 7-6 advantage that seemed precarious at best against a talented Nationals' squad. With men on second and third and one out, Redmond chose to walk Anthony Rendon to set up a potential double play with Jayson Werth coming to the plate.
The Nats' veteran leader turned a one-run deficit into a three-run lead with a violent swing on Carlos Marmol's 0-1 pitch, driving the ball deep into the left field stands to send the crowd at Nationals Park into delirium. Punctuating his mammoth blast with an epic bat flip, Werth showed Redmond and the Marlins that sometimes the right choice and end up being the wrong one.
#3 — Mr. Walk-Off Does His Job
Cavernous RFK Stadium often seemed empty even with a large crowd in attendance, but by the bottom of the ninth inning in a May 12, 2007 Nats' contest against the Phillies, there may have been more people on the field than there were in the stands watching.
Two rain delays had carried a Saturday night affair into the wee hours of Sunday morning until Ryan Zimmerman ended the madness at 1:42 am. with a grand slam off of Florida's Jorge Julio to give Washington a 7-3 win.