Washington Nationals: Top Five Late Inning Grand Slams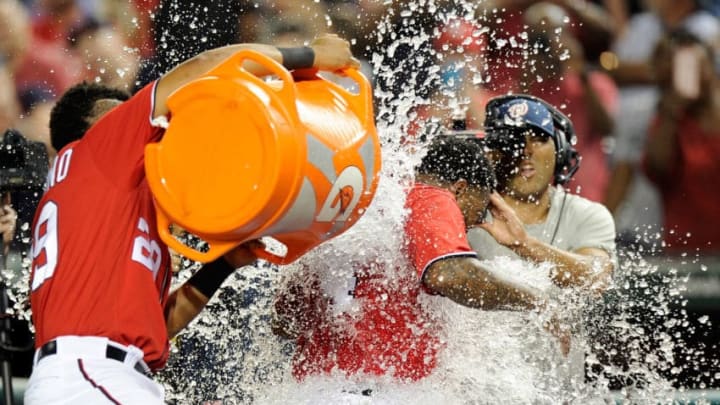 WASHINGTON, DC - AUGUST 13: Howie Kendrick #4 of the Washington Nationals gets doused with water after hitting the game winning grand slam in the 11th inning against the San Francisco Giants during Game 2 of a doubleheader at Nationals Park on August 13, 2017 in Washington, DC. Washington won the game 6-2. (Photo by Greg Fiume/Getty Images) /
washington nationals /
#2 — Closing In Style
The 2009 Washington Nationals were baseball's worst team, losing a team record 103 games and being non-competitive in many of them. When the club closed out its home schedule on September 30th at Nationals Park, few in attendance were probably expecting to see a memorable game. What they got was something straight out of Hollywood.
With two out, the bases loaded and New York Mets' closer Francisco Rodriguez on the mound, Washington area native Justin Maxwell came to the plate as the Nats' last hope. With their fate resting on the sub .250 hitting Maxwell, things were looking bleak for the Nats, but the lanky outfielder batted Rodriguez to a 3-2 count.
On the ninth pitch of the at-bat, Maxwell sent a soaring fly ball to left field that looked to have a chance to leave the park. Mets' left-fielder Angel Pagan then circled under the ball and seemed to be in a position to make the catch, but the ball barely made it over Pagan's outstretched glove and cleared the wall to give Washington a dramatic 7-4 win.
#1 — We're Not Gonna Take It
For the first six years of their existence, the Washington Nationals were routinely beaten up by their divisional neighbors to the north in Philadelphia. The Phillies won 71 of the 110 games played between the teams during that time frame, with many of the wins coming by large margins. Making the experience worse for the Nats' faithful was the fact that Phillies' fans often invaded Washington to watch their team beat up on the home squad, and did so with all of the civility of the Huns invading Rome.
By 2011, the tide had turned, and the Nationals would end up winning ten of the 18 games played between the teams. Probably the most exciting of the ten wins came on August 19, 2011, when Ryan Zimmerman once again came up big in the clutch.
In the first game of a three-game set at Nationals Park, Philadelphia jumped out to a 4-0 lead but saw the Nats battle back to within two runs heading into the bottom of the ninth. With Phils' hard-throwing closer Ryan Madson taking the mound things looked bleak for the Nats, but Washington rallied to tie the score at 4-4 on RBI hits by Jonny Gomes and Ian Desmond.
With two outs and the bases loaded, Zimmerman worked the count full against Madson before drilling a rocket shot down the left-field line that left the park in a hurry and gave Washington a thrilling 8-4 win.