Upcoming Homestand Will Define Nationals' 2019 Season
Playing their best baseball of the 2019 season, the Washington Nationals head into a homestand that will ultimately define their season.
The Washington Nationals are rolling. Winners of 12 out of their last 16 games, in a span of a little over two weeks Washington, has seemingly risen from the dead and turned their season around.
Coming into Tuesday the Nationals sit six games back of the Philidelphia Phillies and Atlanta Braves who are in a deadlock tie atop of the National League East. Philidelphia and Atlanta will square off this weekend in a three-game set, so come Sunday someone will hold sole possession of first place in the N.L. East.
Fittingly, Washington is set to face both Philidelphia and Atlanta on their upcoming homestand, and how they fare in the coming week and a half will ultimately determine how their 2019 season goes.
The 11-game homestand starts Thursday as Washington takes on the Arizona Diamondbacks for a four-game set. Arizona is a team who by many standards have overachieved to start this 2019 season. Currently, Arizona is 35-32 and sit just 2.5 games out of a wild-card spot in the National League.
After the matchup with Arizona Washington begins seven games with their division rivals. The first four against the Philidelphia Phillies, and the final three against the Atlanta Braves.
Atlanta is the much hotter team than Philidelphia at the moment. Coming into Wednesday the Braves have won four in a row and are 7-3 in their last 10 games. Philadelphia, on the other hand, has lost two in a row and are 4-6 over their last 10. The Phillies have been a much better team at Citizens Bank Park this season than on the road, as they are 22-13 at home but just 15-16 on the road.
While both matchups will be important, and if Washington comes away from this homestand with a sub .500 record it could sink their season, the four games with the Phillies will carry extra importance. After these four games, Washington only faces Philidelphia seven more times this season.
If Washington wants to climb back into this division race and compete with the Phillies, they need to take at least three of four from them next week. Atlanta, on the other hand, has only faced Washington one time this season, so the Nationals still have 17 more games against the Braves to try to close the gap.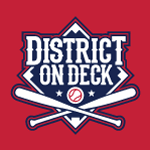 Want your voice heard? Join the District On Deck team!
Write for us!
The Washington Nationals are playing their best baseball of the 2019 season, and it could not have come at a better time. Next week will tell the story of the Nationals' 2019 season, they will either climb back into the race with an impressive homestand or sink and be looking up in the standings the rest of the season.