Washington Nationals: It's Put Up or Shut Up Time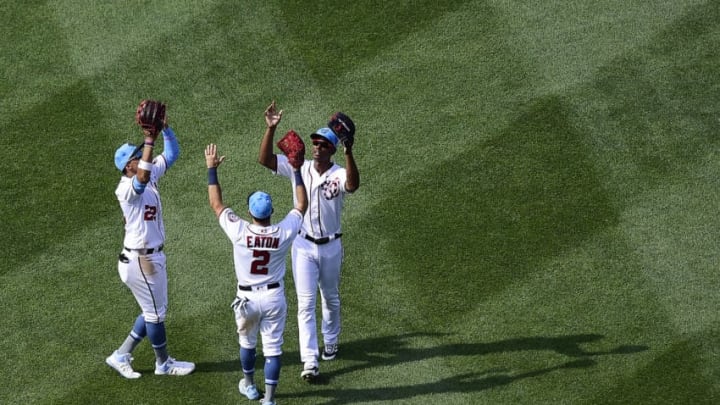 WASHINGTON, DC - JUNE 16: Juan Soto #22, Adam Eaton #2, and Michael A. Taylor #3 of the Washington Nationals celebrate after the Nationals defeated the Arizona Diamondbacks 15-5 at Nationals Park on June 16, 2019 in Washington, DC. (Photo by Patrick McDermott/Getty Images) /
For the Washington Nationals to avoid a major trade deadline sell-off, they must win both home series against the Philadelphia Phillies and Atlanta Braves.
No more excuses. No more "the boys battled" or "it's still early." The Washington Nationals have to beat the first place Braves and second place Phillies this week at Nationals Park. Period.
After failing to win three consecutive series against the San Diego Padres, Chicago White Sox, and Arizona Diamondbacks, the Nats have no remaining margin for error. As a result, Washington still sits in fourth place; 8.5 games back of the division-leading Braves.
As the clock ticks down to the July 31 MLB trade deadline, the Nationals cannot afford to lose any more ground to NL East rivals. If Washington doesn't take care of business this week at home, the likelihood of the Nats trading key players like Anthony Rendon, Sean Doolittle, Howie Kendrick, Kurt Suzuki, Matt Adams, and Adam Eaton will increase exponentially.
While Max Scherzer and Stephen Strasburg probably won't be dealt, teams will most certainly be asking about both starting pitchers. Nationals general manager Mike Rizzo would have no choice but to listen if his team is already out of contention.
How do the Washington Nationals avoid this worst-case scenario? They can start by playing their best players. If healthy, Suzuki and Kendrick should start at least six of this week's seven games. Yan Gomes and Brian Dozier have performed like bench players, which should be their respective roles for the foreseeable future.
If relief pitchers don't get the job done during this crucial week, they should be sent down to the minors or released instead of heading to the injured list with phantom ailments. Trevor Rosenthal, Kyle Barraclough (IL), Tony Sipp, Wander Suero, and Matt Grace all have ERAs north of 4.50, which means their jobs should be on the line. Rizzo should tell them that, too.
Now to Davey Martinez, who should have been fired already but is presumably getting one last shot to prove himself as a big league manager. In addition to assembling the best possible lineup, Martinez must manufacture runs from the dugout to defeat the (so far) superior Braves and Phillies. That means forcing the issue with situational hitting, bunting, and stealing instead of Martinez sitting on his hands as baserunners are stranded.
With his team in desperation mode all week, Martinez must operate on the assumption that his closer will be in a save situation every single night. That means not wasting Doolittle's arm in a 4, 5 or 6 run game, as Martinez has done several times this year. Doolittle is Washington's only elite reliever and should be used in a way that maximizes his extraordinarily high value.
There is no time left for the Nationals to start saving the 2019 season. The turnaround must begin here and now against the team's biggest rivals. If not, get ready to dust off the "for sale" sign and bid farewell to some outstanding Nats players.