Washington Nationals bring back Stephen Strasburg on record deal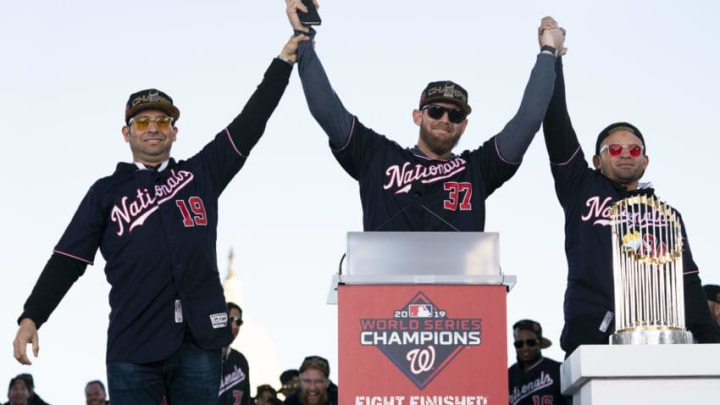 WASHINGTON, DC - NOVEMBER 02: Anibal Sanchez #19, Stephen Strasburg #37 and Gerardo Parra #88 of the Washington Nationals celebrate during a parade to celebrate the Washington Nationals World Series victory over the Houston Astros on November 2, 2019 in Washington, DC. This is the first World Series win for the Nationals in 95 years. (Photo by Patrick McDermott/Getty Images) /
As reported at the Winter Meetings, the Washington Nationals have brought back starting pitcher Stephen  Strasburg on a record-setting deal.
The Washington Nationals make the first major splash at this year's Winter Meetings by re-signing starting pitcher Stephen Strasburg.
The 31-year-old reportedly is set to sign a 7-year deal worth $245 million.
This has become the largest contract for a starting pitcher in the history of baseball, and Strasburg is set to become the most lucrative pitcher ever.
Of course, that record may be shortlived until Gerrit Cole signs his mega-deal, but the Nationals got their man.
It was reported that the Nationals could only afford one of Strasburg or Anthony Rendon this offseason.
That being the case, Washington clearly made Strasburg their primary target.
The former first overall draft pick is coming off maybe his best season yet as he led the Nationals to their first-ever World Series title.
After going 18-6 with a 3.32 ERA and 251 strikeouts in 209 regular-season innings, he went 5-0 with a 1.98 ERA in 36.1 postseason innings with 47 strikeouts all while being named the World Series MVP.
The Nationals were able to defer $80 million of this deal to the three years after the first seven.
That could set the AAV for the first seven years at around. 23.57 million, possibly opening up the door for the Nationals to bring back Rendon at third base.
Washington still has other holes to fill this offseason — primarily third base, first base, and in the bullpen.
But it certainly feels good to have Strasburg back in the fold and atop the rotation with Max Scherzer and Patrick Corbin.
Now with Strasburg taken care of, the Nationals can focus on filling those other needs the rest of the offseason as the look to repeat as World Series champions in 2020.
Let us know what you think about the Strasburg signing in the comments below.