Major League Baseball's new rules for 2020 season are officially active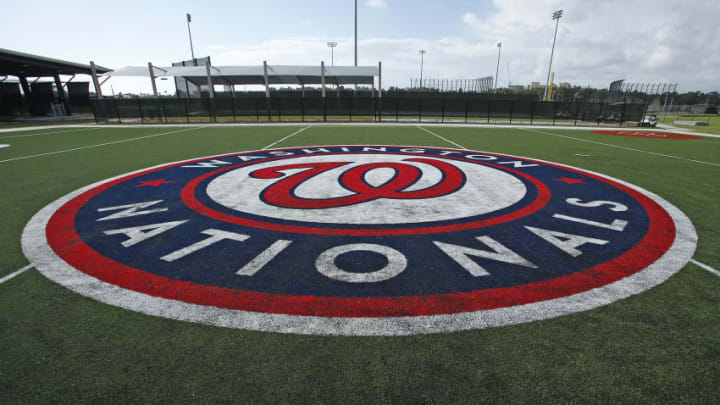 WEST PALM BEACH, FL - FEBRUARY 28: The Washington Nationals logo on one of the practice fields at The Ballpark of the Palm Beaches prior to a spring training game against the Houston Astros on February 28, 2017 in West Palm Beach, Florida. (Photo by Joel Auerbach/Getty Images) /
MLB has some new rules for 2020.
Major League Baseball (MLB) announced eight new rules for the 2020 season back in 2018. Now those rules have been activated.
The biggest rule change is the three batter rule for relief pitchers. In the past, managers would bring out a relief pitcher, usually a lefty to face one batter. Then they would immediately switch pitchers for the next match-up and move on from there. Now this is no longer an option. The rule is an attempt to speed up the game and limit play being stopped on pitching changes. In my opinion, this ruins the strategy of the game and makes it tougher on lefty relievers. Plenty of lefties have terrible splits against righties and are now at a disadvantage.
Playoff rosters have been increased from 25 to 26 which is huge. Teams will now have the option of adding another reliever or bench bat. In addition, teams will only be allowed to carry 13 pitchers.
September call ups are different. Instead of rosters expanding to 40 spot, it now only expands to 28 spots.  Also, teams will be allowed to carry 14 pitchers. While it's not the end of the world, cutting back from 40-28 players puts a damper on things on things. For non contending teams, September was a time to see your prospects called up and prove themselves. Now there are only additional three spots available.
Two Way players won't count towards the pitcher limit as long as they are designated as such before first pitch. The biggest example is Shohei Ohtani.
There are special rules teams have to follow now if they want to have a position player pitch. Now, a position player can only come in to pitch in the ninth inning or later, and they team has to be either up or down six plus runs.
The IL for pitchers and Two Way players has been switched from 10 days back to 15.
Managers now have 20 seconds instead of 30 seconds to challenge a play. This will help speed up the game and is a smart change.
The season starts March 26th and it will be interest to see how all 30 teams handle the new changes.