Five Nationals named to MLB Network's top 100 players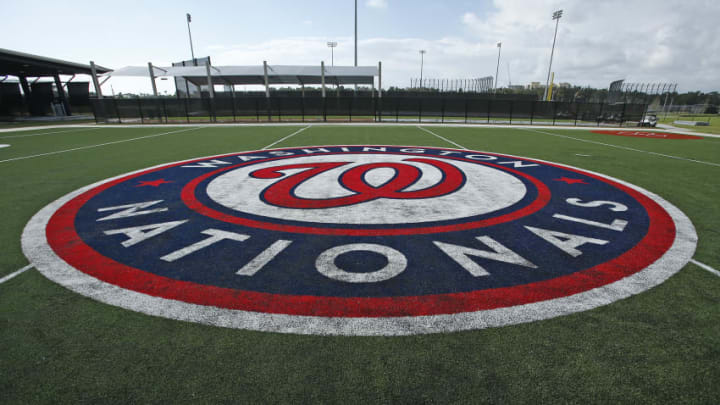 WEST PALM BEACH, FL - FEBRUARY 28: The Washington Nationals logo on one of the practice fields at The Ballpark of the Palm Beaches prior to a spring training game against the Houston Astros on February 28, 2017 in West Palm Beach, Florida. (Photo by Joel Auerbach/Getty Images) /
MLB Network released their top 100 players for the 2020 season
Throughout the week, MLB Network released their top 100 players right now for the upcoming season. Trea Turner (76), Patrick Corbin (48), Stephen Strasburg (20), Max Scherzer (14), and Juan Soto (11) were all named to the list. Former Nats Anthony Rendon (6) and Bryce Harper (33) were also both named to the list.
Trea Turner was the catalyst for the Nats lineup in 2019. He broke his finger early in the year and the offense suffered because of it. Turner's return helped spark the teams turnaround and ultimately led to the franchise winning their first ever World Series. In 122 games last season, Turner hit .298, with 19 homers, and 57 RBI's, while stealing 35 bases in 40 attempts. With Rendon gone, Turner will be leaned on to help fill the offensive void.
Patrick Corbin was an absolute bargain in his first year with the Nats. After signing a six year deal worth 140 million, he went on to win the Warren Spahn Award for best left handed pitcher. Being a lefty, Corbin brought an extra dimension to the lineup. In the playoffs and World Series, Corbin was leaned on heavily to pitch out of the bullpen. He was inconsistent at times, but came through when needed. This was seen when he pitched three scoreless innings of relief in Game Seven of the Series. Corbin finished the 2019 season 14-7, with a 3.25 ERA, and 238 strikeouts.
The 2019 season saw Stephen Strasburg finally take that extra step. When Scherzer missed time on the IL, Strasburg stepped up and put the team on his back. In the month of July, Strasburg went 5-0, with 44 strikeouts and held opposing hitters to a .190 average. In fact, in July Strasburg had more RBI's (6) than runs allowed (4). The 31 year old finished the 2019 season 18-6, with a 3.32 ERA, and 251 strikeouts. Strasburg then put together one of the best postseasons for a starting pitcher ever. He finished his postseason run 5-0, with a 1.98 ERA, and 47 strikeouts. And what did he have to show for his dominant performance? A World Series title and World Series MVP award.
Max Scherzer was on the way to winning his fourth Cy Young award when he was placed on the IL for the first time in his career. He had 27 starts last season, which was the least amount since his rookie season. Despite his stint on the IL, Scherzer was still his usual dominant self. He went 11-7, with a 2.92 ERA, and 243 strikeouts. This was his eighth straight season with 200+ strikeouts. Scherzer then went 3-0, with a 2.40 ERA, and 37 strikeouts in the playoffs. Similar to Corbin and Strasburg, Scherzer also played a pivotal role coming out of the bullpen when needed. Now that he is fully healthy, look to Scherzer battling for his fourth Cy Young award.
Juan Soto built on his rookie season and had a stellar sophomore campaign. He teamed up with Rendon to form arguably the best three-four hitter combo in the NL. Soto finished the 2019 season hitting .282, with 34 homers, and 110 RBI's. He helped the Nats overcome their dreadful 19-31 start and led them back to the playoffs for the first time since 2017. The 21 year old upped his game in the World Series where he hit .333 with three homers and seven RBI's. Now that Rendon is gone, look for Soto to put the offense on his back.
With five players on MLB's top 100, the Nats should be in good shape to defend their title.