Turner Will Steal Plenty of Bags Hitting Third for the Washington Nationals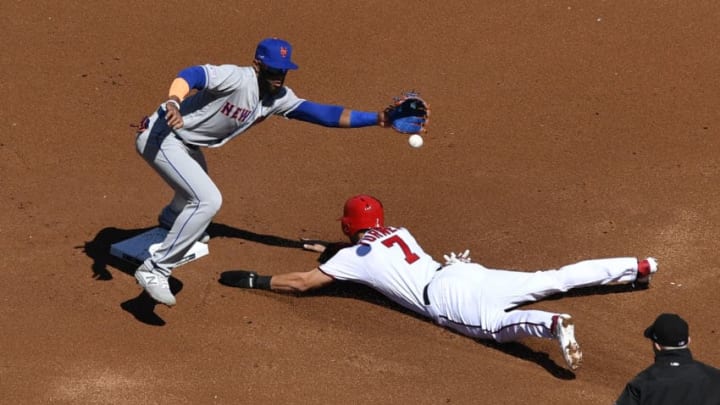 Trea Turner (Photo by Patrick McDermott/Getty Images) /
Davey Martinez will test Trea Turner as the number three hitter for the Washington Nationals, history tells us that won't diminish Turner's ability to steal bases.
The Washington Nationals are set to open up their slate of Spring Training games on Saturday, against the team they defeated to win the 2019 World Series, the Houston Astros.  For a Spring Training opener, there is some unprecedented drama heading into the game.
During the offseason, the Astros were found to have cheated throughout the 2017 season, and they were, sort of, punished for their actions.  Manager AJ Hinch, was fired by Astros management and former Nationals manager Dusty Baker has been hired as Hinch's replacement. For a "meaningless" game in February, there are plenty of reasons to tune in.
An interesting element to keep an eye on this spring will be how Nationals manager, Davey Martinez constructs his lineup.  Anthony Rendon left the Nationals in the offseason as a free agent, and the Nats will need to be creative to make up for the production that has been vacated with Rendon's departure.
Martinez has said he will try hitting Trea Turner third in the lineup at times this spring, with Victor Robles leading off.
The idea of Turner hitting third has been met with hesitance by many fans.  Much of the argument against Turner hitting third is that it will deter him from using one of his greatest assets, his speed.
While number three hitters do generally have lower stolen base numbers and attempts, it wouldn't be a historical anomaly to see Turner's stolen base numbers remain at the top of the league.
In 1982, Andre Dawson stole 33 of his 39 bases serving as the 3-hitter. In 1988, Jose Canseco stole 39 of his 40 bases as the number three hitter in the A's lineup.  In 1996, Barry Bonds stole 40 bases while hitting in the middle of the order. In 2004, Bobby Abreu stole all but one of his 40 bases while hitting third in the lineup.
Willie Mays, Hank Aaron, Alex Rodriguez, Barry Larkin, Paul Molitor and Eric Davis all jump out to me  as guys who have had great success as middle of the order hitters and also stole a ton of bases.
This isn't to say that there may be some moments where Turner is reluctant to steal, but overall those moments will not be as significant as many fans may believe. If the fear is that, Turner steals with two-outs and a pitcher walks Soto, who cares? Now, the Nationals have two guys on base with our number 5 hitter up.
Howie Kendrick hit .336 with two outs in 2019.  Starlin Castro had 30 two-out RBI last season.  Eric Thames (who I do not think should hit behind Soto because of the three batter minimum rule) had 9 homers and a .496 slugging percentage with two outs last year.
The 2020 Nationals are not built to rely on the long-ball as many other MLB franchises are.  They will be focused on moving-the-line and trusting that the next man up can do his job.
The protection from Juan Soto, will enhance Turner's overall offensive production.  Moving Turner to the third spot should allow him to see more fastballs, which he dominated last year.
Turner may see some decrease in his overall steal numbers, but to suggest that hitting third will eliminate that aspect of his game, is to ignore history.  It has been done before with great success.