Washington Nationals: A look at the current bubble players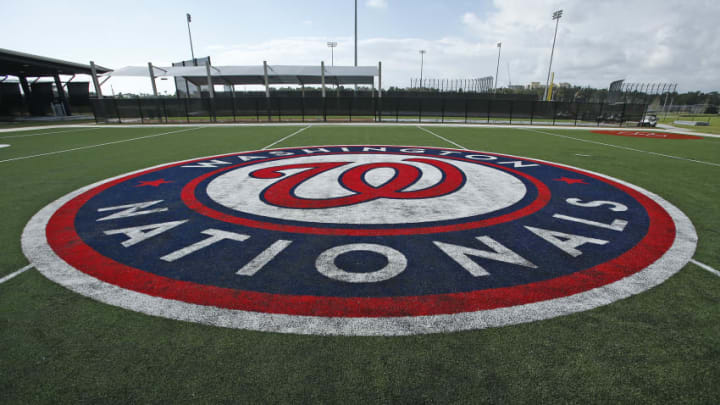 WEST PALM BEACH, FL - FEBRUARY 28: The Washington Nationals logo on one of the practice fields at The Ballpark of the Palm Beaches prior to a spring training game against the Houston Astros on February 28, 2017 in West Palm Beach, Florida. (Photo by Joel Auerbach/Getty Images) /
With only 26 spots on an open roster, how are the Nationals bubble players faring?
Spring Training is in full swing and all eyes are on the position battles going on across the league. Over in Washington, the majority of the roster is set. The fifth starter and third base are up for grabs, while the bench and bullpen still have a few openings. Opening day is on March 26 which leaves less than a month for the players to prove they belong on the 26 man roster. Now here are how some of the bubble players are fairing a week into Spring Training games.
Carter Kieboom
Carter Kieboom is the Nationals top prospect and by some, is assumed to be the new starting third baseman. However, he is in the process of learning a new position due to the fact that he is natural short stop and Trea Turner is already entrenched there. With Anthony Rendon leaving for the Angels, Washington has a big hole at the hot corner. Manager Dave Martinez has made it clear that Kieboom is being given every opportunity to win the job. Sadly, it isn't going so well. In three games Spring Training games, the 22-year-old has already committed two errors and is hitting .167. It will take time for the youngster to learn a new position, but at this rate he might spend the season in the minors. This is bittersweet because he has already proven himself in Triple A at the plate, but could use the time to learn the new position.
Rushing Kieboom to the majors would be detrimental to his development and the teams success. If Kieboom drastically improves at third throughout Spring Training then he deserves to be the starter. But as of now, Kieboom might spend the beginning of the season in the minors yet again.
Andrew Stevenson
The speedy outfielder has rarely been given a chance in the majors, only having 124 at bats across three seasons. The lefty is an intriguing option to make the roster and so far has a good chance of being the 26th man. Last year he proved himself in the small opportunity he was given. He went 11-30 with six walks, proving he can get on base. Andrew Stevenson would become the fifth outfielder and would be another lefty Martinez can use to pinch hit. He can also be an important pinch runner. In eight Spring Training at bats, Stevenson is hitting .250, with two RBI's, two strikeouts, and has an OPS of .830. In the outfield he has yet to commit an error which bodes well.
Stevenson is a popular pick to make the 26 man roster after being left off the last three years.
Emilio Bonifacio
The 34-year-old journeyman was traded to Washington in 2008 and spent half a season there. Now 12 years later, Emilio Bonifacio is back and fighting for a bench spot on the 26 man roster. He hasn't appeared in the majors since 2017 and is still trying to prove he has something left in the tank. Over his 11 year career, Bonifacio has spent time at second, short, third, left, right, and center field. Having a Swiss Army Knife type of player can be beneficial in case someones goes down with an injury. In nine at bats this Spring, Bonifacio is hitting .333, with an OPS of .889, and two RBI's. If Kieboom proves to not be ready, expect Asdrubel Cabrera to be the starting third baseman. In that case, Bonifacio could make the roster as a bench guy. Be it a small sample size, but Bonifacio has looked good so far. If he continues to improve, don't be surprised if he makes the roster.
Erick Fedde
Erick Fedde is on this list because out of him, Austin Voth, and Joe Ross, he is the only one left with a minor league option. In order for Ross or Voth to be sent back to the minors, they would have to clear waivers and that is highly unlikely.
Fedde has been inconsistent in his time with Washington. Last season he went 4-2, with a 4.50 ERA, and 41 strikeouts in 78 innings pitched. Fedde was called up to the majors to fill in for Max Scherzer when he was placed on the IL. While he had his ups and downs in 2019, Fedde shined in the month of August. In three starts, he went 3-0, with a 3.18 ERA, with eight strikeouts.
Now is the time for Fedde to prove he deserves to be on the 26 man roster and so far he has failed to do so. In his first start of the Spring, Fedde only lasted an inning and a third. He gave up an unearned run on a hit and two walks, but also struck out two. Fedde reached his pitch count and was thus unable to finish the second inning.