MLB to Follow Suit and Suspend Baseball Operations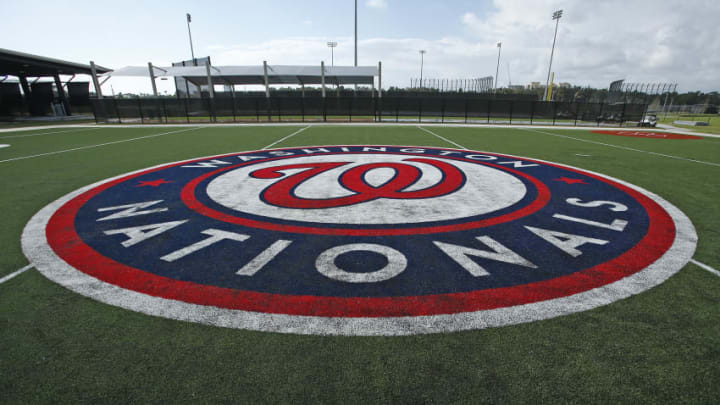 WEST PALM BEACH, FL - FEBRUARY 28: The Washington Nationals logo on one of the practice fields at The Ballpark of the Palm Beaches prior to a spring training game against the Houston Astros on February 28, 2017 in West Palm Beach, Florida. (Photo by Joel Auerbach/Getty Images) /
The MLB is the most recent sport to suspend operations due to the Coronavirus.
Yesterday the NBA shocked the sports world as they announced they were suspending their season due to the Coronavirus. Rudy Gobert of the Utah Jazz had tested positive for the virus and the Jazz OKC game was abruptly ended. Both teams were quarantined at the stadium.  Later in the night, the NBA made their decision to suspend the league. Today it was announced that Gobert's teammate Donovan Mitchell also tested positive for the virus. Fortunately, the rest of the team tested negative of the virus. Many of the NBA teams are now being asked to go into self-quarantine because they recently played the Jazz.
Shortly after other Sporting leagues followed suit. The MLS suspended their league, as well as the NHL. The NCAA has started to cancel many of the conference tournaments. At first, the plan was for teams to play without any fans, but that has changed. The MLB was in a precarious position because their season wasn't set to begin till March 26th. Instead, the MLB has announced they are suspending Baseball Operations.
Safety comes first and while upsetting this is the safest course of action.
The MLB had already begun looking into different sites for the games. Jared Diamond of The Wall Street Journal wrote an article on the situation and stated, "This could take on several forms, these people said. Teams could play at other MLB stadiums in cities less affected by the crisis, when its primary tenant is on the road. They could stay at their spring training facilities in Arizona or Florida and stage regular-season contests there, since those places are experienced at hosting major-league games. Baseball has even received outreach from outside parties with facilities large enough to host MLB teams if they can't play at home."
The Seattle Mariners were the first team to announce they wouldn't be playing their home games in Seattle. This makes sense as the state of Washington has been a hotspot for the virus. Cities and States are looking into having bans on large public gatherings. This will affect the upcoming season and brings up further questions. For now, the biggest question is when will the season officially begin?