MLB AL Award Predictions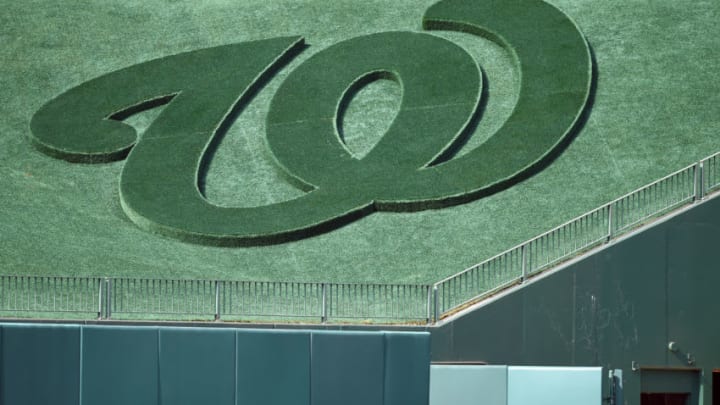 The Washington Nationals logo in centerfield grass before a baseball game against the Los Angeles Dodgers at Nationals Park on July 26, 2019 in Washington, DC. (Photo by Mitchell Layton/Getty Images) *** Local Caption *** /
Who is going to take home the hardware for the AL
Earlier in the week, I gave my predictions for the MLB NL awards. This time I will be giving my predictions for the AL Awards.
Rookie of the Year
The Chicago White Sox have a promising young offensive core that is made up of Tim Anderson, Yoan Moncada, and Eloy Jimenez, as well as a top farm system. The best prospect of the bunch is outfielder Luis Robert who is currently ranked number three by MLB Pipeline. Robert looks to be the real deal and is only 22.
Last year in 47 games at Triple-A, he hit .297, with 16 homers, 39 RBI's, and an OPS of .974. He then carried over his success into Spring Training. In 30 at-bats this Spring, Robert was hitting .333. with a homer, two RBI's, and an OPS of .961. His fielding also looked crisp as he committed zero errors in 15 total chances.
Prediction: Luis Robert
Cy Young
Many of the top pitchers in the AL are battling injuries. It was announced that Chris Sale is undergoing Tommy John surgery and will miss all of 2020. Corey Kluber only made seven starts last year before he broke his arm. Before the injury, Kluber was struggling from a loss in velocity. He is 33 and will need to prove he's still got it. Justin Verlander underwent surgery for his groin. The 37-year-old will need to show that father time hasn't caught up to him.
While many people will be expecting Gerrit Cole to win his first Cy Young award, keep your eye on the rising star, Tyler Glasnow. Tampa Bay acquired Tyler Glasnow as part of the trade that sent Chris Archer to Pittsburg. Since arriving in Tampa, Glasnow has started to produce at a high level. After being used mainly as a reliever with the Pirates, Tampa moved him back into the rotation. He struggled at first making the transition. In 2019, he suffered a forearm strain that made his miss the majority of the season. Despite the injury, Glasnow finished 2019, 6-1, with a 1.78 ERA, and 76 strikeouts in 12 starts. This was a vast improvement from his 2018 season where he went 1-5, with a 4.20 ERA, and 64 strikeouts in 11 starts.
With the season being delayed, Glasnow has plenty of time to build up his strength and fully recover. His only problem is his tendency to tip his pitches. Glasnow is part of a stacked rotation that will help take the pressure off of him.
Prediction: Tyler Glasnow
MVP
While the AL is full of talent, never bet against the best player in baseball. Mike Trout has been running the league since he made his debut in 2011. Trout has already won three MVP's with his most recent coming last season. Trout's biggest competition is Mookie Betts who was traded to the AL. Regardless of your opinion on Jose Altuve and Alex Bregman, they will also both give Trout a run for his money. Despite this, Trout should be everyone's frontrunner.
Last year, he hit .291, with 45 homers, 104 RBI's, and an OPS of 1.083. He led the AL in OBP, slugging percentage, OPS, while finishing second in WAR, and home runs.  In the off-season, the Angels signed Anthony Rendon to a seven-year deal. With Rendon protecting Trout in the lineup, the reigning AL MVP will only increase his production.
Prediction: Mike Trout