Minor League Baseball to meet on reducing the number of teams.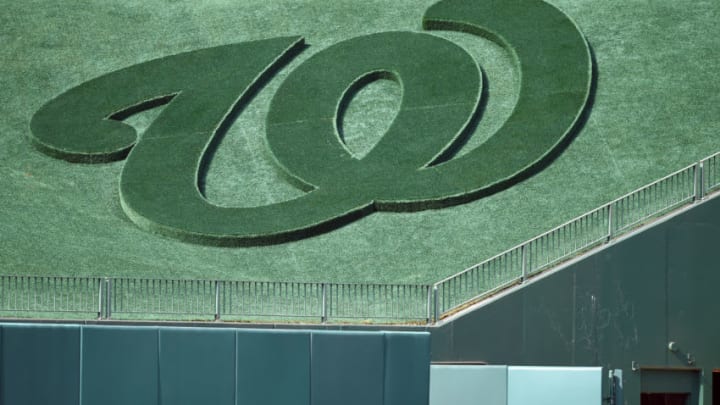 The Washington Nationals logo in centerfield grass before a baseball game against the Los Angeles Dodgers at Nationals Park on July 26, 2019 in Washington, DC. (Photo by Mitchell Layton/Getty Images) *** Local Caption *** /
MiLB to meet tomorrow to agree on a new working agreement with the MLB that will lead to cutting up to 42 teams
According to J.J. Cooper of Baseball America, Minor Leauge Baseball (MiLB) is on the verge of agreeing to cut up to 42 teams. As of now, there are 160 minor league teams. With the working agreement between MLB and MILB set to expire, this was a big part of the new discussions. Tomorrow the Milb will be meeting to agree to the MLB's proposal.
Cooper stated,
""While the exact details of timetables and funding mechanisms need to be worked out, both sides agree on the need to adopt improved facility standards. MiLB has signaled its understanding that the current player development contracts by which MiLB teams and MLB teams reach affiliation agreements will be modified to give MLB teams greater control over choosing their affiliates. MiLB has indicated a willingness to work with MLB on shortening travel and improving the geographical cohesiveness of leagues."
This is an improvement from when the two sides were at each other's throats.
Cooper added,
"Now MiLB is expected to signal its assent to a system going forward where each MLB team will have four full-season affiliates, plus one Rookie-level team at its spring training complex. Such a move fulfills the largest remaining demand MLB has requested in these negotiations. MLB teams have looked to reduce the number of affiliates each team has. MLB had already reached agreement last month with the Major League Baseball Players Association to cut the number of rounds in the 2020 and 2021 drafts, which will almost assuredly cut the number of players MLB teams sign each year."
Rumors have been swirling dating back to the beginning of the year, that the MLB was trying to cut down on the number of minor league teams. But at the time, the minor league teams were able to fight back. Now the Coronavirus has shutdown sports which have led to teams struggling to be able to pay their employees. Teams are now willing to talk in order to secure long time stability for the rest of the clubs.
Cooper explained,
"MiLB's willingness to agree to 120 affiliated teams is a dramatic indication of just how much has changed in a few months. Before the novel coronavirus shut down all sports, MiLB was waging a public relations and political campaign to try to get MLB to agree to more than 120 teams.Now, many MiLB teams are just trying to survive. Several MiLB teams have had to layoff or furlough significant numbers of staffers because the current season is suspended with no clear start date in sight."
The meeting tomorrow will lead to an unprecedented era in baseball.