ICYMI: Jeff Passan Reports MLB Plans To Submit A Return-To-Play Proposal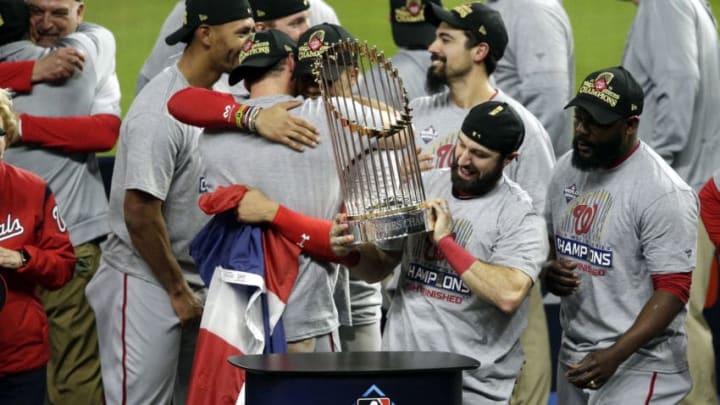 HOUSTON, TEXAS - OCTOBER 30: Adam Eaton #2 of the Washington Nationals holds the Commissioners Trophy after defeating the Houston Astros 6-2 in Game Seven to win the 2019 World Series in Game Seven of the 2019 World Series at Minute Maid Park on October 30, 2019 in Houston, Texas. (Photo by Bob Levey/Getty Images) /
Is a return to baseball on the Horizon? Well Jeff Passan of ESPN has some interesting news.
Baseball has returned in the forms of the Chinese Professional Baseball League and the Korean Baseball Organization (KBO) but MLB is still on hold. The MLB 2020 season has been delayed for six weeks now, but according to Jeff Passan of ESPN, the MLB is expected to offer the MLBPA a return-to-play proposal within the next week. The proposed plan will include a Spring Training starting in early June, with the regular season starting as early as July 1. This comes on the heels of retired player Trevor Plouffe's tweet.
In his report, Passan stated,
""Already, dozens of players are working out at team facilities around the country, according to sources, and the possibility of holding a three- or four-week spring training at teams' home stadiums appeals to a number of stakeholders. After entertaining the ideas of quarantining all players in Arizona or using three- or five-city hubs to hold games, there is momentum toward the league trying to play games in home stadiums, sources said.""
This is a promising sign that baseball will return. Over the last few months, the league has been offering different proposals about changing up the divisions in order to have teams stay in a few designated areas. Now, it seems the league is hoping teams can play in their home stadiums.
Of course, there are plenty of questions MLB will need to address before being able to reopen the league. Health concerns and money are two of the bigger obstacles but Passan goes over that in detail. One of the biggest concerns of resuming sports is what happens if we come back and a player ends up testing positive? Passan stated,
""The league's answer to that question and others is eagerly anticipated by players whose sense of optimism has grown in the past week. At the same time, multiple officials and players have expressed reservation about negotiating an agreement as the country reopens, fearful that by the time the beginning of June rolls around, the climate for the game to return might not be as welcoming.""
This is the biggest fear of sports returning, and the league will need to have an answer to the potential roadblock. But Passan's report has brought a glimmer of hope.