Washington Nationals: Players Compared To Anime Characters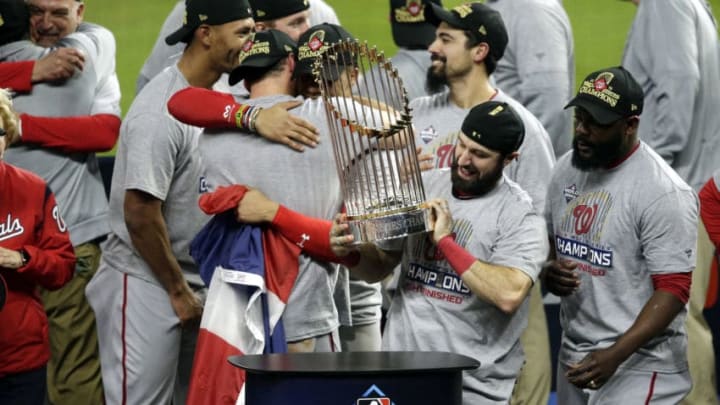 HOUSTON, TEXAS - OCTOBER 30: Adam Eaton #2 of the Washington Nationals holds the Commissioners Trophy after defeating the Houston Astros 6-2 in Game Seven to win the 2019 World Series in Game Seven of the 2019 World Series at Minute Maid Park on October 30, 2019 in Houston, Texas. (Photo by Bob Levey/Getty Images) /
WASHINGTON, DC – OCTOBER 15: Howie Kendrick #47 of the Washington Nationals (Photo by Patrick Smith/Getty Images) /
Howie Kendrick: Rock Lee
Rock Lee is a reoccurring character in the anime Naruto which is about Ninjas. Lee is a side character who lives in the Hidden Leaf Village, the same village where the main protagonists reside. Most of the characters in the anime can perform Jutsu, (mainly Genjustsu or Ninjutsu) a mystical art, such as summoning an exact clone of themselves or releasing a fireball. Lee is unable to use Jutsu and has to rely on only martial arts (Taijutsu). Because of this, he is looked down on and made fun of, which in turn fuels him to train more than ever. At the start of the show, Lee is already proficient in hand to hand combat and one of the strongest characters introduced.
During the Chunin Exams (a test to become a certified ninja) Lee squares off against the show's first antagonist, Gaara. As the battle progresses, Lee showcases his advanced ability, but in the end, is overmatched by Gaara's strength. Gaara ends the fight by breaking Lee's arm and leg. When recovering, Lee learns that due to the severity of his injuries, he will never be able to fight again. Devastated, Lee starts to lose his way. Eventually, he learns of a surgery that only has a 50% survival rate, but if successful, would be able to fully heal him. After undergoing the surgery, Lee is fully recovered and shows up again through the course of the anime, partaking in some of the biggest fights, where he usually prevails.
Howie Kendrick has spent 14 years in the big leagues and has emerged as a productive player. However, Kendrick had to work his way up. He didn't receive much love from colleges and ended up enrolling at St. John's River Community College, located in Palatka, Florida. During his time there, he was named the Conference Player of the Year. Rock Lee had to work even harder to move up the ninja ranks, due to his inability to use Ninjutsu and Genjitsu. Similarly, Kendrick went under the radar and had to make a name for himself, and both emerged as valuable pieces to their teams.
From 2006-2014, Kendrick played with the Los Angeles Angels, where he made a name of himself for being a consistent hitter. In 2017, Kendrick ended up in the Nation's capital where he eventually became a significant part of the National's offense. On May 18, 2018, the veteran ruptured his Achilles, effectively ending his season. In sports, Achilles injuries are one of the hardest to recover from. The player loses some of his athleticism and is never the same. When Kendrick suffered his Achilles injury, he was 34. While it was assumed he would eventually return, expectations were that he would lose a step. Washington missed Kendrick's presence during the 2018 season. He was a reliable bench bat, who would always come through in a pinch.
When he first came back in 2019, the righty struggled, and in the playoffs was a liability in the field. Kendrick committed three errors, all in the NLDS against the Dodgers. However, despite recovering from injury, he found a way to elevate his offensive abilities. In 334 regular-season at-bats, Kendrick hit .344, with 17 homers, and 62 RBIs. The infielder was named NLCS MVP and hit two of the biggest homers in franchise history. Kendrick and Lee have similar characteristics. While never the star of their respective team or show, they both show up when it matters. After undergoing significant injuries, Lee and Kendrick were able to persevere and were able to continually come through in the clutch