Washington Nationals: Undrafted Free Agent Tracker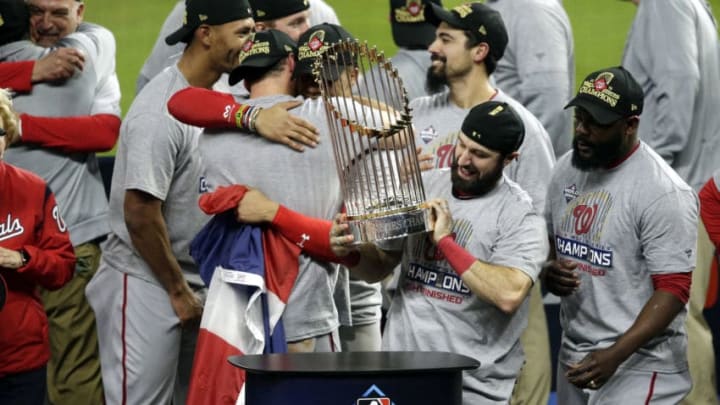 HOUSTON, TEXAS - OCTOBER 30: Adam Eaton #2 of the Washington Nationals holds the Commissioners Trophy after defeating the Houston Astros 6-2 in Game Seven to win the 2019 World Series in Game Seven of the 2019 World Series at Minute Maid Park on October 30, 2019 in Houston, Texas. (Photo by Bob Levey/Getty Images) /
Which undrafted free agents have reached a deal with the Nationals?
The MLB draft was from June 10-11 and the Nationals left with six new prospects. Starting this morning, teams were allowed to negotiate with UDFA's and offer them a contract with a maximum value of $20,000. Now is the time for the Nationals to bolster their farm system's depth and look for some hidden gems. Here is an updated look at each UDFA that has signed with the Nats.
Gio Diaz
Saint Mary's infielder Gio Diaz and the Nationals have come to an agreement. Diaz thrived in his jr. year with Gaels, hitting .396 in 13 games before the season was canceled. More importantly, the infielder only struck out twice in 53 at-bats. In his three years at Saint Mary's, Diaz hit .309, with 38 RBIs, and an OPS of .752.
Jackson Coutts
The Nationals reached an agreement with Rhode Islands Jackson Coutts. Coutts played outfield and first base. In his three years with the Rams, Coutts hit .302, with nine homers, and 61 RBIs, while posting an OPS of .803. Coutts was on a tear to start the 2020 season before Coronavirus ended everything. He was hitting .451, with four homers, and 12 RBIs.
Raymond Torres Jr.
After drafting Jackson Rutledge with their 2019 first-round pick and then Mitchell Parker in the fifth round of 2020, the Nationals have signed another player from San Jacinto JC. This time it's San Jan's catcher, Raymond Torres Jr.  According to Jessica Camerato of MLB.com,
"" As a freshman, Torres appeared in 13 games in 2020. He hit .444/.528/.667 with 20 hits — including six doubles — 15 runs and 12 RBIs over 45 at-bats.""
Edward Urena
The Nationals another pitcher, this time Western Oklahoma State JC's Edward Urena. The team assigned him to the GCL Nats.
Landon Dieterich
Washington signed outfielder, Landon Dieterich out of the University of Mary Hardin-Baylor (Texas). Dieterich played all four years at Mary Hardin, splitting time between right and first base.
""Dieterich expects to start his professional career in rookie ball, but will have to wait on word for his report date and location. The minor league baseball season has been put on hold due to the COVID-19 pandemic. Dieterich is the first UMHB baseball alum to sign a professional contract since pitcher Aaron Barteau signed in the Pecos League in 2017.""
Brian Klein
Washington reached an agreement with the Texas Tech second baseman, Brian Klein.
https://twitter.com/TTU_Baseball/status/1275819250456891392?s=20
Zach Cornell
Washington signed Zach Cornell, an outfielder out of Southeastern. According to the Southeastern University Athletics page,
""During his lone season with the Fire, the Cartersville, Ga. native led all of college baseball with 56 hits, and had a .519 average with 44 RBIs for the 26-1 Fire. Cornell hit safely in 25 of his 27 games at SEU, was a three-time Sun Conference Player of the Week, and had 10 games with three or more hits.""
Zach Brzykcy
The Nationals signed the Virginia Tech pitcher, Zach Brzykcy. Brzykcy was ranked the number 180 draft prospect by MLB Pipeline and number 271 by Baseball-Reference.
According to Sports Illustrated,
""The 6-foot-2 right-hander has the kind of fastball-slider combination you love to see coming out of the bullpen late in games. He touches triple digits fairly regularly, throwing his fastball anywhere in the 94-101 mph range… His hard slider is a legitimate strikeout pitch and a nasty plus breaking ball."""
Brzykcy will need to work on his control issues but, should move from the minors rather quickly due to being a reliever.
Quade Tomlin
The Nationals reached an agreement with the Liberty Christian slugger, Quade Tomlin. If his last name sounds familiar, that's because his dad was a pitching coach with the organization for five years. According to the News & Advance,
""The slugger, who hit .420 as a junior in 2019 and blasted nine home runs and five doubles to go with a .913 slugging percentage and a team-high 47 RBIs, is the latest in an impressive list of LCA players to be drafted out of high school.""
This list will be updated as more players are added.