MLB: An Updated Look At The Ongoing Negotiations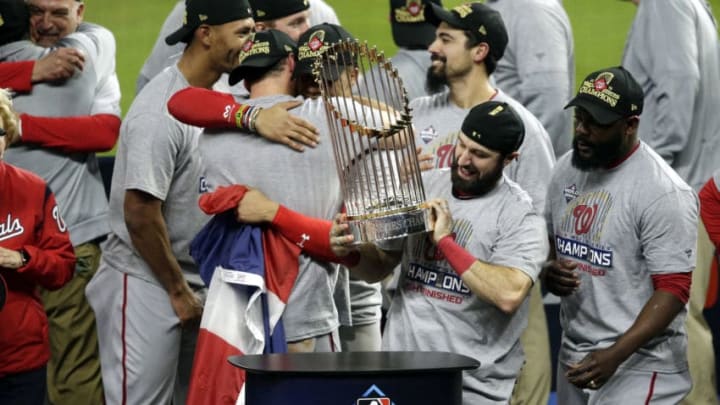 HOUSTON, TEXAS - OCTOBER 30: Adam Eaton #2 of the Washington Nationals holds the Commissioners Trophy after defeating the Houston Astros 6-2 in Game Seven to win the 2019 World Series in Game Seven of the 2019 World Series at Minute Maid Park on October 30, 2019 in Houston, Texas. (Photo by Bob Levey/Getty Images) /
Four days ago, baseball fans believed that both sides were on the brink of finally reaching an agreement. Instead, the two sides are once again struggling to reach a compromise. What has happened over the last few days?
A few days ago, MLB submitted their latest proposal which would include a 60 game regular season. While the proposal looked to be on the right track, the players weren't entirely sold. To make matters worse, before the proposal was released, Rob Manfred and the Executive Director of the Major League Baseball Players Association Tony Clark sat down for a meeting. At this meeting, the two discussed the ongoing negotiations and one side felt the two had come to an agreement. It seems this wasn't the case. The MLBPA countered with a 70 game season. Naturally, MLB was opposed to the player's offer and the two sides are yet again continuing the ongoing negotiations and constant bickering. MLB has stated they won't play more than 60 games, which is the current problem.
While everyone knew 2020 was going to be a shortened season, it initially looked like an exact number of games was in view. However, with the two sides yet again unable to reach a compromise, Manfred might have to finally step in and implement a mandatory season with a set number of games.
Earlier today, Rob Manfred sent a letter to Tony Clark that had some added concessions for the 60 game proposal.
The possibility of having a Universal DH upset many NL fans and baseball purists.
Then today, the players were supposed to re-vote on the 60 game proposal but held off, probably to reconsider the new changes. As both sides are still negotiating, it should be noted that a few days ago, the Philadelphia Phillies announced they had multiple players and other people in the organization test positive for COVID-19. According to Bob Nightengale of USA Today,
""Major League Baseball had 40 players and staff members test positive for COVID-19 in the past week, creating a sense of urgency in labor negotiations between the owners and players, according to two persons with direct knowledge of the situation.""
This will complicate matters as both sides won't want to play if the player's health is at risk.