Washington Nationals: Recap Of A Busy Last Few Days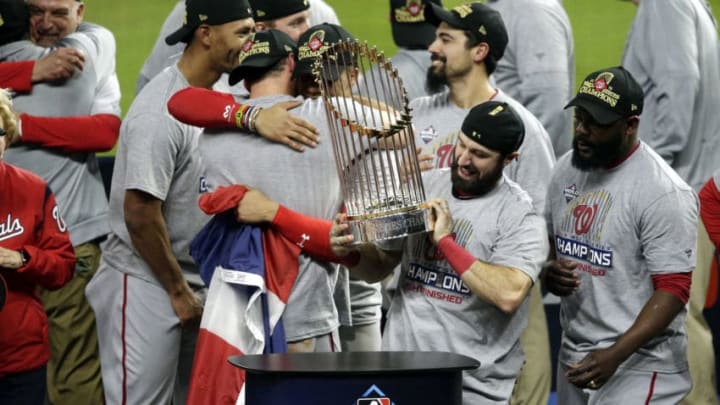 HOUSTON, TEXAS - OCTOBER 30: Adam Eaton #2 of the Washington Nationals holds the Commissioners Trophy after defeating the Houston Astros 6-2 in Game Seven to win the 2019 World Series in Game Seven of the 2019 World Series at Minute Maid Park on October 30, 2019 in Houston, Texas. (Photo by Bob Levey/Getty Images) /
Missed out on the latest Nationals news? Don't worry we have you covered.
The Washington Nationals have been busy over the last week, making multiple headlines. Catch up here on what has been a productive week for the defending World Champs.
Nationals Yankees To Headline Opening Day
The New York Post broke the news that MLB has announced the Washington Nationals and New York Yankees will headline Opening Day on July 23, at Nats Park.
While the rest of the season hasn't been finalized, starting off the season with the reigning World Series Champs and arguably the best team in the league is a great idea. To top things off, fans should be able to look forward to a battle of aces, as three-time Cy Young winner Max Scherzer, should take the mound against the Yankees shiny new toy, Gerrit Cole.
Cole is fresh off a World Series run with the Astros, where he was defeated in seven games to the Nats. In-Game One of the World Series, Cole had his 19 game win streak snapped, which stretched back 25 starts. Gerrit Cole was able to shut down the Nats in game five, so this will make for some much watch baseball.
Scherzer battled injuries during the second half of the 2019 season that lingered into the playoffs. Now that he has had extra time to recover, he should look like his dominant self.
It should be noted that if players continue to test positive for Coronavirus than the season could still be canceled, so don't get your hopes up about this exciting matchup.
Ryan Zimmerman Hasn't Decided If He Will Suit Up For 2020 Or Not
Ryan Zimmerman had his option for 2020 declined, but he signed a one year deal with the team to stay with the only franchise he's ever played for. Now, it has been reported that Mr. Nationals hasn't made up his mind if he will play in the shortened 2020 season or not. Health concerns due to Coronavirus are giving Zimmerman second thoughts.
During quarantine, Zimmerman has been stating his thoughts in an AP Diary and released his latest edition, which went over his current thoughts about playing or not. He stated,
""I'm still deciding whether to play.When it comes down to it, it's a decision not just for me, but for my family as well.I have a 3-week-old baby. My mother has multiple sclerosis and is super high-risk; if I end up playing, I can pretty much throw out the idea of seeing her until weeks after the season is over.There's a lot of factors that I and others have to consider. I don't think there's a right or wrong answer; it's everybody's individual choice.At the end of the day, does a player feel comfortable going to the field every day and — in my case, more importantly — feel comfortable coming home every day and feel like they're not putting anyone else in danger?""
If Zimmerman does decide to sit out, he won't be the only player. Many are definitely weighing their options and deciding if it is worth it or not to play.
Washington Finalized Their 60 Man Roster
Today by 4 pm, all 30 teams had to turn in their finalized 60 man rosters. How exactly does the 60 man roster work? Jeff Todd of MLB Trade Rumors broke it down. He stated,
""No other players will be permitted to participate in camp. Teams are permitted to operate two separate camps if they so choose. All teams will operate an alternative training site once the season begins…Players on the 40-man roster need not be included in the 60-man player pool. Likewise, of course, pool players need not be on the 40-man roster — unless and until they are added to the active MLB roster…The active MLB roster will consist of up to 30 players (and at least 25 players) at the start of the season. After two weeks of play, that number goes down to 28. After two more weeks, it drops again to 26, with a 27th player available for double-headers.Teams will travel with an unofficial 3-man taxi squad, the identity of which need not be disclosed. One player must be a catcher. There is no official designation or roster status associated with being a member of that group.As usual, a player must be on a 40-man roster in order to be added to the active MLB roster.""
Shortly after the deadline, the Nationals tweeted out their finalized 60 man roster.
At first glance, what stands out is the amount of young talent the Nationals added to the roster. Prospects Luis Garcia, Jackson Rutledge, Wil Crowe, Tim Cate, and Seth Romero were all included. Garica is the team's second-best prospect behind Carter Kieboom, while Rutledge, Crowe, Cate, and Romero are all young pitchers drafted by the team over the last few years. The team's young talent will be able to get extra reps during Spring Training and could even hear their name called up to the 26 man roster if needed (however very unlikely).
A sad note is that Adrian Sanchez, the long time tenured player in the team's organization was left off the 60 man roster due to injury.