Washington Nationals: Wilmer Difo, you won't like what I have to say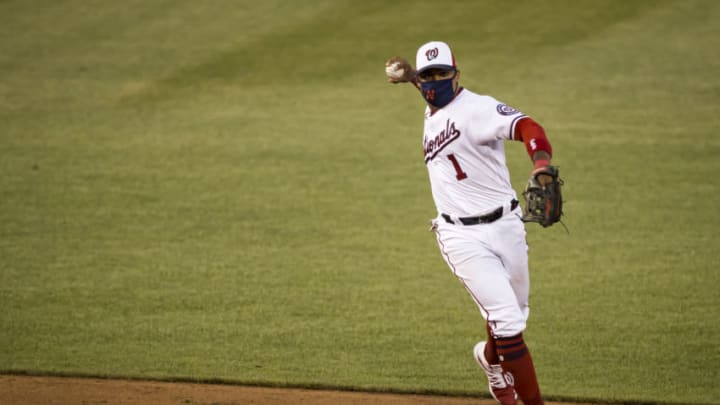 JULY 18: Wilmer Difo #1 of the Washington Nationals throws to first base during the eighth inning against the Philadelphia Phillies at Nationals Park on July 18, 2020 in Washington, DC. (Photo by Scott Taetsch/Getty Images) /
If Wilmer Difo has stayed around this long, surviving multiple chances at being designated for assignment, shouldn't he at least be playing?
At this point if Wilmer Difo is still on the roster, shouldn't he be playing on a regular basis? What more do they need to see from Difo to evaluate him? Is he a contributor? Is he not? The Nationals need to make up there mind.
What is the Wilmer Difo career moment which stands out most vividly in your mind? For me, it was the Game 5 strikeout in the 2016 NLDS against Clayton Kershaw, which capped the season for the Nationals. I'd have to look back and see who was on the bench who could have pinch hit in that situation. Why would you send a guy with 69 career at bats to the plate with the season on the line to begin with?
That is another question altogether. The point here is, for Difo to play in parts of six years with the Nationals, and have my most vivid memory be a strikeout, there's something wrong.
Right now, where the Nationals sit, why are they holding onto Wilmer Difo? He's versatile. Great, every infielder on the roster can play multiple positions, the same ones he can. He's a power hitter. Nope. 15 career home runs in just under 1000 at-bats. He gets on base. Nope. He has a career OBP of .309. To me, Wilmer Difo is expendable.
He's costing a roster spot right now, which could go to Carter Kieboom. The roster spot could go to Andrew Stevenson. Yes, Stevenson is an outfielder, but with the signing of Brock Holt, there are now four infielders on the roster with a skill set better at the infield positions than Difo.
We know Stevenson is a part of the future plans. Same with Kieboom. Allow those players the chance at getting some experience, helping their cause (at that of the Nationals) for the future. Difo, will be arbitration eligible again this offseason. Do you pay the guy based on his 1-11 this year, or .248 lifetime average.
True, he won't make peanuts compared to other players, so the question really isn't about money. It's about playing for the future.
The season is slipping away from the Nationals. Free agents are going to walk at the end of the year. If Difo figures into the future plans, play him. If he doesn't, get him off the roster and bring up someone else to evaluate. Maybe a Yadiel Hernandez. At least that guy has a track record for hitting home runs.
Difo is out of options, meaning he'll have to clear waivers before being outrighted. This seems to be why the Nationals are hesitant to take him off the roster. They must figure he'll get claimed. Though if he isn't playing, why is he on the roster, and why do they care what happens to him?
Play him or dump him. I vote dump him.