Washington Nationals: Brock Holt more versatile than we thought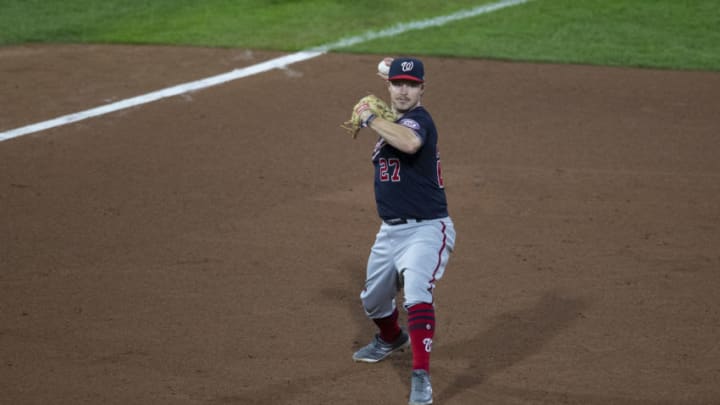 Brock Holt #27 of the Washington Nationals throws the ball to first base against the Philadelphia Phillies at Citizens Bank Park on September 2, 2020 in Philadelphia, Pennsylvania. The Phillies defeated the Nationals 3-0. (Photo by Mitchell Leff/Getty Images) /
The versatile Brock Holt proves his worth to the Washington Nationals once again, by taking the mound in a blowout loss to the Miami Marlins.
I, for one, am a fan of position players who pitch. You never know what will transpire when an infielder or outfielder moves to the center of the field to toe the rubber. Add Brock Holt to the list of guys thrust into action to save the arms in the bullpen.
Holt was called upon in the bottom of the sixth after Aaron Barrett had to leave with an injury. He was making his major league debut on the mound.
The mustache, not quite Rollie Fingers. The fastball, not quite Nolan Ryan. The determination, all of Mariano Rivera.
The first batter Holt faced, Brian Anderson, launched a three run home run. The jack, was Anderson's third of the game, so he was obviously hot, can't put that on Brock.
After inducing a fly out, Holt gave up three straight hits and the Marlins kicked the extra point to go up 14-3. Unscathed, Holt was able to get the next two hitters on popups.
Apparently he is not a ground ball pitcher and he does not have blow by you stuff. He'll have an ERA of 18.00 when he wakes up this morning and can now put pitcher on his resume. The journeyman can do it all, and as two-way players are finding ways onto major league rosters, don't sleep on Brock Holt.
Remember, the Washington Nationals had J.B. Shuck on the roster during spring training. He played outfield as well as pitched in relief. When the pandemic hit and minor leaguers were being released left and right, Shuck was given his walking papers.
As for Holt, lets hope as long as he is in a Washington Nationals jersey he doesn't have to take the mound again.