District On Deck's First Round AL Predictions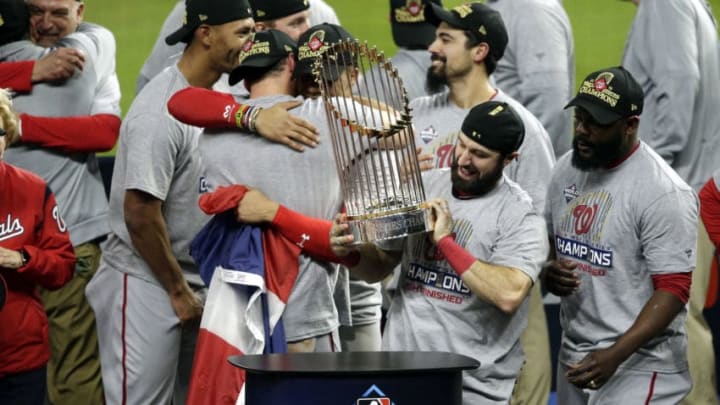 HOUSTON, TEXAS - OCTOBER 30: Adam Eaton #2 of the Washington Nationals holds the Commissioners Trophy after defeating the Houston Astros 6-2 in Game Seven to win the 2019 World Series in Game Seven of the 2019 World Series at Minute Maid Park on October 30, 2019 in Houston, Texas. (Photo by Bob Levey/Getty Images) /
3) Minnesota Twins V. 6) Houston Astros
WASHINGTON, DC – OCTOBER 25: Zack Greinke #21 of the Houston Astros delivers the pitch against the Washington Nationals during the first inning in Game Three of the 2019 World Series at Nationals Park on October 25, 2019 in Washington, DC. (Photo by Patrick Semansky – Pool/Getty Images) /
The Minnesota Twins are back in the playoffs and for once do not have to open against the New York Yankees. The Twins have lost their last 16 playoff games, with 13 of them coming against the Yankees, dating back to 2006. With that hurdle out of the way, for now, Minnesota can focus on Houston. Minnesota's offense has taken a step back from last year but is still dangerous. Father time has continued to ignore Nelson Cruz who is still raking. This year, the 40-year old hit .303, with 16 homers, 33 RBIs, and an OPS of .992. Cruz is the engine that drives the Twins offense, but he is not alone. Joining him is Josh Donaldson, Eddie Rosario, Max Kepler, Miguel Sano, Byron Buxton, and Jorge Polanco.
Kenta Maeda and Jose Berrios will be the starting pitchers for the first two games. Maeda has been a godsend for the Twins while Berrios has taken a step back. After being used as a back of the rotation pitcher with the Dodgers, Maeda has emerged as an ace. This year, he is 6-1, with a 2.70 ERA, and 80 strikeouts in 66.2 innings pitched. Due to underperforming this season, Berrios is the team's wildcard. The Twins will need the 26-year-old to deliver a signature moment in order to advance.
After rocking MLB with their cheating scandal, the Astros are back in the playoffs. However, when it comes to the starting rotation, this is a completely different team than the one that was a win away from winning the 2019 World Series. Gerrit Cole joined the Yankees in free agency and ace Justin Verlander is out for the season. That leaves veteran Zack Greinke to front the rotation. Unfortunately, Greinke is having a down year. He is 3-3, with a 4.03 ERA, and 67 strikeouts in 67 innings pitched. The rest of the Astros rotation hasn't fared much better, finishing 15th in the league in ERA (4.39).
The offense has struggled for the Astros which should come to no surprise. What is surprising, is the fact that Jose Altuve is hitting .219, with five homers, 18 RBIs, and an OPS of .629. To put it in perspective, last season Altuve hit .298, with 31 homers, and 71 RBIs. It is uncertain, how much of Altuve's bad year can be attributed to no longer knowing what pitch is coming. As a whole, the Astros offense finished 2020 20th in batting average (.240), 17th in wRC+ (100), 23rd in OBP (.312), 16th in slugging percentage (.408), 16th in OPS (.720), and 20th in offensive fWAR (5.7). The offensive core of Altuve, George Springer, Michael Brantley, Alex Bregman, Carlos Correa, and Yuli Gurriel will be attempting to prove to the world that they can still produce without cheating.
Prediction: Houston's starting rotation will doom them. Twins in 3.