District On Deck's ALCS Predictions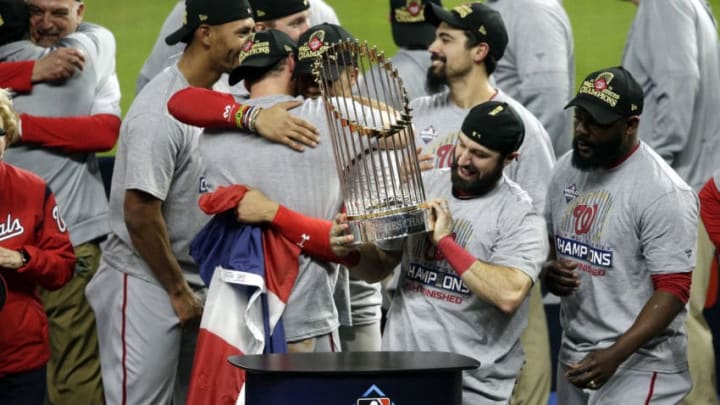 HOUSTON, TEXAS - OCTOBER 30: Adam Eaton #2 of the Washington Nationals holds the Commissioners Trophy after defeating the Houston Astros 6-2 in Game Seven to win the 2019 World Series in Game Seven of the 2019 World Series at Minute Maid Park on October 30, 2019 in Houston, Texas. (Photo by Bob Levey/Getty Images) /
An unstoppable force faces off against an immovable object for the rights to represent the American League in the World Series.
Houston made short work of the Oakland Athletic's to prove to the world they still run the AL West. Tampa on the other hand, took out the evil empire thanks to Mike Brosseau's eighth inning bomb off of Aroldis Chapman.
Tampa Bay V. Houston
How They Got Here:
Tampa: Defeated Toronto and New York
Houston: Defeated Minnesota and Oakland
Tampa Bay has reached the ALCS on the back of their elite starting rotation and lights out bullpen. This team is built to stifle opposing hitters with their pitching, allowing the offense enough time to get to work. While this offense can score in bunches, they aren't built to outslug opponents on a nightly basis.
Through seven playoff games, the Rays offense is hitting .217, with 14 homers, 31 RBIs, and an OPS of .728. Austin Meadows returned from the IL for the ALDS and provided a huge boost for Tampa. He is still not back to form, as seen by his .154 batting average through four games. However, he has already gone deep twice, both solo shots. While most of the offense has struggled, Randy Arozarena, Joey Wendle, and Mike Brosseau have carried the load. Tampa has found plenty of success with the deep ball, but will need to be more consistent at the plate in order to advance to the World Series for the first time since 2008.
2018 AL Cy Young winner, Blake Snell was announced as the Game One starter. So far in two playoff starts, he is 1-1, with a 3.38 ERA, and 13 strikeouts. Behind him is Charlie Morton and Tyler Glasnow, who have combined for 26 strikeouts in four starts. At the backend of the rotation is Ryan Yarbrough who is a quality number four.
Behind the rotation, is one of the best bullpens in baseball led by closer Nick Anderson. In 7.1 innings, he has a 2.45 ERA, with six strikeouts. The Rays have used him in high-pressure situations all postseason and he has risen to the challenge.
Houston enters the ALCS as polar opposites from Tampa. Their bread and butter is their loaded offense led by Jose Altuve, Carlos Correa, George Springer, Michael Brantley, Yuli Gurriel, and Alex Bregman. In six games, the offense is hitting .281, with 13 homers, 40 RBIs, and an OPS of .839. A total of six Astros are hitting .276 or higher, making for a balanced attack.
Carlos Correa has been playing out of his mind, hitting .500 with four homers, 12 RBIs, and an OPS of 1.715. He definitely backed up his words when being interviewed after defeating the Twins.
A bright spot for the Astros has been the fact that Jose Altuve has finally woken up. After a terrible season that saw him hit .219, he is hitting .273, with two homers, and six RBIs. Altuve has been the heart and soul of the Astros lineup for years and with him back to his old self, this offense is finally firing on all cylinders.
While the offense will carry the weight, Houston will need some quality starts from the rotation. After a solid start against the Twins, Zack Greinke struggled in his outing against Oakland. In 4.2 innings, the veteran allowed 4 runs, on five hits, while walking one and striking out four. Houston will need a lot more from their ace, especially with Justin Verlander out for the season.
Prediction: Tampa's pitching will keep Houston's offense in check long enough for their own offense to get the job done. Tampa in seven.