Sorry Blake Snell, but Jeremy Hellickson feels your pain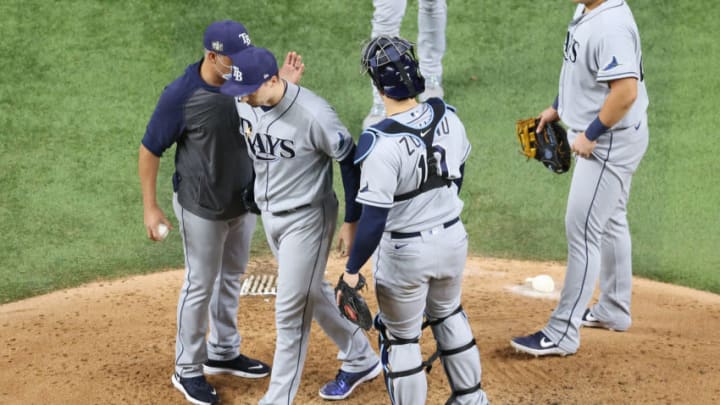 Blake Snell #4 of the Tampa Bay Rays is taken out of the game by manager Kevin Cash during the sixth inning against the Los Angeles Dodgers in Game Six of the 2020 MLB World Series at Globe Life Field on October 27, 2020 in Arlington, Texas. (Photo by Maxx Wolfson/Getty Images) /
When Blake Snell was removed from Game 6 of the World Series before facing the order a third time, I immediately thought of Jeremy Hellickson and his treatment during the 2018 season.
Blake Snell was cruising. He was setting Dodgers hitters down, picking them up, and setting them down again. He would not be allowed a third time to set them down, however. Simply because it would be his third time facing them. As he was being removed from Game 6 of the World Series, I couldn't help but think back to how the Washington Nationals treated Jeremy Hellickson in 2018.
Snell was pitching in a win-or-go-home game during the Fall Classic, and Hellickson was toeing the rubber during the regular season. I am not necessarily comparing the situations as much as I'm looking at the way of thinking.
That being said, I'm so glad Jeremy Hellickson was on the 2019 World Series winning Washington Nationals, and got a ring for his troubles. For how the team treated their approach to his outings in 2018, he deserved it.
With the way analytics are looked at in today's game of baseball, there is no question the human element has been taken out and replaced by the algorithms of a computer. Dusty Baker was lauded a few weeks ago for sticking with pitcher Zack Greinke in a high leverage situation, even though the printout probably said take him out. Managing off of gut feeling is not only not allowed in baseball today, but managers are deemed "old fashioned" for still managing by it.
Where does Hellickson fit into this?
In 2018 it seemed like manager Davey Martinez couldn't get out of the dugout fast enough to replace Hellickson, as soon as he completed his second time through the order. Regardless of how well Jeremy was pitching.
Hellickson made five starts in May in which he  allowed two runs or less in every start. In two games, he was pitching a shutout. He was removed from each game without being in any trouble, and with a low pitch count. Why? He was facing the batting order for the third time.
In 19 starts that year, Hellickson pitched six innings only twice. He allowed more than three earned runs only once. He was pulled from a game against the Chicago Cubs where he had a no-hitter in the sixth inning, after walking the bases loaded. His pitch counts were routinely in the 60s and 70s when being pulled. Hellickson just wasn't given many chances to face hitters a third time.
When does this lack of trust start to weigh on a pitcher's mind? Is there no human element anymore?
I've seen Hellickson's splits from that year and know the batting averages against him drastically improved when hitters saw him a third time (.192 average first time through, .214 second, .419 third), though shouldn't each scenario be treated individually?
Even in the evolution of the game, where starters are only expected to go five innings, (they once were challenged to complete what they started) seems like Hellickson had the shortest leash in all of baseball.
For Hellickson it is a moot point, he has his ring. For Blake Snell, who was pulled prematurely, without the opportunity to face the Dodgers lineup a third time, he'll have to wait for his chance at his coveted World Series ring.
With a game trying to distance itself from managing on human emotion, I shouldn't feel bad, for feeling bad for these pitchers who get the quick hook.