Nationals: A Perfect Plan For The 2020-2021 Off-Season Part 1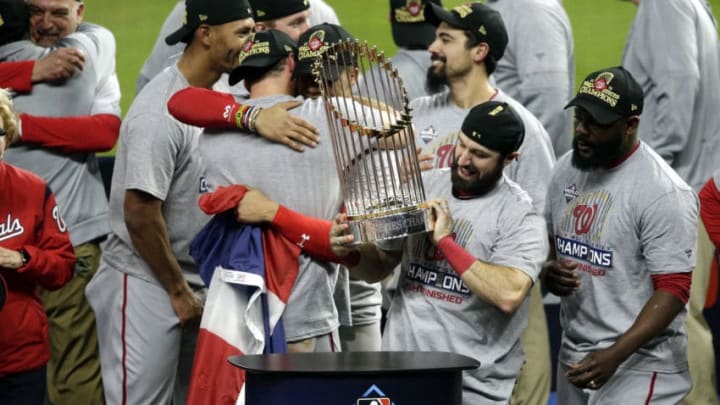 HOUSTON, TEXAS - OCTOBER 30: Adam Eaton #2 of the Washington Nationals holds the Commissioners Trophy after defeating the Houston Astros 6-2 in Game Seven to win the 2019 World Series in Game Seven of the 2019 World Series at Minute Maid Park on October 30, 2019 in Houston, Texas. (Photo by Bob Levey/Getty Images) /
SAN DIEGO, CALIFORNIA – OCTOBER 16: George Springer #4 of the Houston Astros celebrates scoring on a Jose Altuve #27 RBI double during the fifth inning against the Tampa Bay Rays in Game Six of the American League Championship Series at PETCO Park on October 16, 2020 in San Diego, California. (Photo by Ezra Shaw/Getty Images) /
A World Series MVP
After rejecting the options on Adam Eaton, Anibal Sanchez, Eric Thames, and Howie Kendrick, Washington has just over $47 million to spend before going over the luxury tax, according to Sportrac. With plenty of holes, the Washington Nationals will need to be frugal with their off-season spending, but the first order of business should be adding another big bat. Juan Soto needs protection in the lineup. Plain and simple. Outside of him, his only consistent help has been Trea Turner who posted a career year of his own at the plate. While dynamic, the two are not enough to carry the current Nationals offense.
Enter George Springer. Put away the pitchforks and torches and hear me out. Yes, he was a key component of the Houston Astros team that won the World Series in 2017, that was also, more importantly, stealing signs. Despite this, his most recent playoff run should go to show that he can still play at a high level without trashcans. Springer is only 31 and will provide a huge boost to the offense. He finished the season hitting .265, with 14 homers, 32 RBIs, and an OPS of .899.
While Springer can leadoff, the team should look at having Victor Robles starting things off. Many in the front office have seen him as the future leadoff hitter and for good reasons. He is one of the fastest players in the league and is a former five-star prospect. Consistency and strikeouts have plagued the 23-year-old, but he still has the tools to put it all together. Following Robles should be Turner, Soto, and Springer, allowing for the Nationals to have the power and production they were missing last season.
Springer will undoubtedly be the top outfielder on the open market, but if his price tag is too high,  Washington should target his teammate Michael Brantley. MLB Trade Rumors projects Springer will sign a five-year deal worth $125 million, compared to Brantley signing a two-year deal worth $28 million. The veteran continues to hit at a high level and has yet to show signs of slowing down due to age. Last season the 33-year old hit .300, with five homers, 22 RBIs, and an OPS of .840. In the outfield, he had two outfield assists and five DRS. Brantley primarily played left field and this can allow for Soto to move to right field full time, a position where the superstar looks more comfortable. The only downside to Brantley is his injury issue.