Washington Nationals: Why The Team Should Rebuild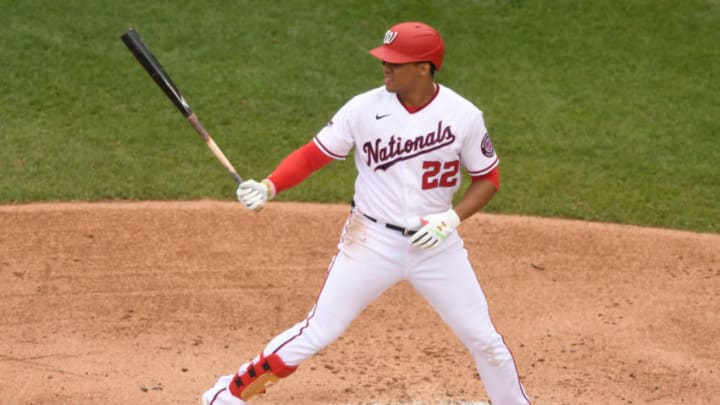 Juan Soto #22 of the Washington Nationals prepares for a pitch during a baseball game against the New York Mets at Nationals Park on September 27, 2020 in Washington, DC. (Photo by Mitchell Layton/Getty Images) /
From 2012 to 2019, the Washington Nationals have been one of the best teams in the league. However, entering 2021, the team is sitting at a crossroads. Is now the time to rebuild?
The Washington Nationals should enter a rebuild? The blasphemy. Now, I understand the hesitation. Washington still has Max Scherzer, Stephen Strasburg, Patrick Corbin, Trea Turner, Victor Robles, and Juan Soto all on the roster. That is a strong core that has already brought one World Series title to D.C. However, 2020 showed that the team has plenty of holes to fill before they can go back to being a contender. With plenty of options in free agency and on the trade market, Washington could bolster the roster and be back in business come next season.
Instead, I am going to play devil's advocate and explain why the team should enter a rebuild. The offense is a shell of its former self, the starting rotation has shown signs of regression and the farm system is empty. Washington's farm system has become barren over the years with zero prospects in MLB Pipelines' top 100. The team's top prospects Jackson Rutledge and Cade Cavalli both have front of the rotation upside but are a few years away from being MLB ready. Behind them is uncertainty which is a problem. Washington will continually have to rely on free agency and trades to better their team for the foreseeable future, which could cost the team in the long run.
Before I begin, Mike Rizzo and the Lerner family have made it clear that they plan on continuing to contend and understandably so. Expect the team to go for it this off-season. Rizzo has avoided rebuilding the past few years, with 2019 being a prime example. While the team is cash strapped, he will find a way to keep the boat afloat while looking forward to a loaded 2021 free agency class. But if the Nationals have another losing season, a rebuild could still be on the horizon.