Washington Nationals: Why The Team Should Rebuild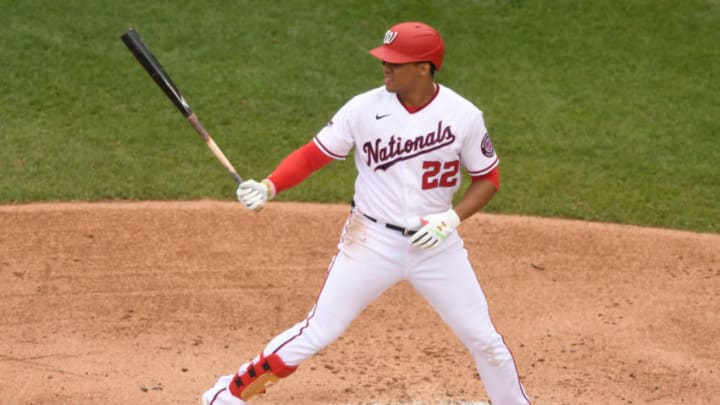 Juan Soto #22 of the Washington Nationals prepares for a pitch during a baseball game against the New York Mets at Nationals Park on September 27, 2020 in Washington, DC. (Photo by Mitchell Layton/Getty Images) /
WASHINGTON, DC – AUGUST 23: Trea Turner #7 of the Washington Nationals triples in two runs in the sixth inning during a baseball game against the Miami Marlins at Nationals Park on August 23, 2020 in Washington, DC. (Photo by Mitchell Layton/Getty Images) /
From 2012-2019, Washington had one of the best offenses in the league. Ryan Zimmerman, Bryce Harper, Anthony Rendon, Daniel Murphy, Michael Morse, Jayson Werth, Trea Turner, Juan Soto, and Ian Desmond just to name a few, have all made their presence felt in the nation's capital. However, outside of Soto, and Turner the rest have either been traded away, retired, or left in free agency. Zimmerman is still a free agent and has yet to decide if he is returning for another year. The lineup has slowly thinned out, with only Trea Turner and Juan Soto left to lead the way. Those two alone cannot carry the current offense and this was on full display in 2020.
Below are the offenses stats in 2019 and 2020. See the difference?
                      BA            OBP         SLG             OPS        wRC+               
2019:           .265        .342         .454          .796           103
2020:           .264        .336         .433          .769           103
While it wasn't drastic drop-offs, the Nationals offense clearly wasn't as potent in 2020. Unfortunately, unless they put all of their eggs into the free agency basket, help isn't coming. Carter Kieboom and Luis Garcia were the team's two top prospects, with both being position players. Sadly, neither took 2020 by storm. Garcia hit a modest .276, but lacked power and was a liability in the field, whereas Kieboom was lost at the plate, but was a bright spot defensively. In win-now mode, Washington doesn't have the patience to wait for Kieboom and Garcia to develop into reliable pieces. Garcia can benefit from another year in the minors, however, Kieboom has already proven himself at Triple A. What he needs is more plate appearances, which the team cannot currently afford.