Washington Nationals: Why The Team Should Rebuild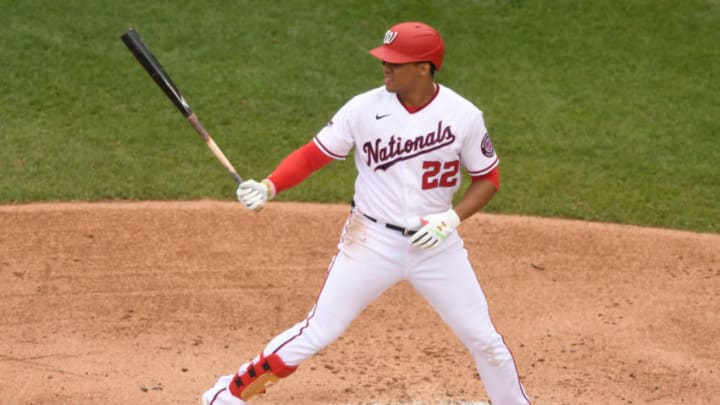 Juan Soto #22 of the Washington Nationals prepares for a pitch during a baseball game against the New York Mets at Nationals Park on September 27, 2020 in Washington, DC. (Photo by Mitchell Layton/Getty Images) /
Max Scherzer #31 of the Washington Nationals pitches in the second inning during a game baseball game against the Atlanta Braves at Nationals Park on September 13, 2020 in Washington, DC. (Photo by Mitchell Layton/Getty Images) /
The backbone of the team, the starting rotation looked like a shell of its former self in 2020. Entering 2021, Washington has almost $94 million tied up between Scherzer, Strasburg, and Corbin. That is a major red flag. Here is how the rotation faired in 2020. For the second straight year, Scherzer battled an injury. He never looked at full strength and went 5-4, with a 3.74 ERA, 92 strikeouts, and a 3.46 FIP. While these are decent numbers, Scherzer is held to a much higher standard. Strasburg only made two starts and underwent season-ending surgery for carpal tunnel. Over the two starts, he only lasted 5.1 innings and allowed six runs over that time. Corbin finished 2-7, with a 4.66 ERA, 60 strikeouts, and a 4.17 FIP.
Anibal Sanchez once again hit a wall. He went 4-5, with a 6.62 ERA, 43 strikeouts, and a 5.46 FIP. The team declined his option and is looking for a new fourth starter. Joe Ross opted out of the season, leading to Austin Voth taking his spot. After showing promise in 2019, Voth was a liability once he became a full-time member of the rotation. In 11 starts, he went 2-5, with a 6.34 ERA, 44 strikeouts, and a 6.41 FIP. Voth may be better suited for a role in the bullpen. Erick Fedde replaced Strasburg in the rotation and finished the year 2-4, with a 4.29 ERA, 28 strikeouts, and a 6.15 FIP. Similar to Voth, Fedde may be better suited as a long reliever.
In years past, the rotation has held opponents at bay, allowing for the offense to grind out wins. Now with the Big Three taking a step back and the back end of the rotation full of uncertainty, Washington's greatest strength has become a question mark. If Washington cannot rely on its rotation, then it might be time to move on. Especially if the offense continues to decline.