Washington: Where Do The Nationals Rank In FanSided 250?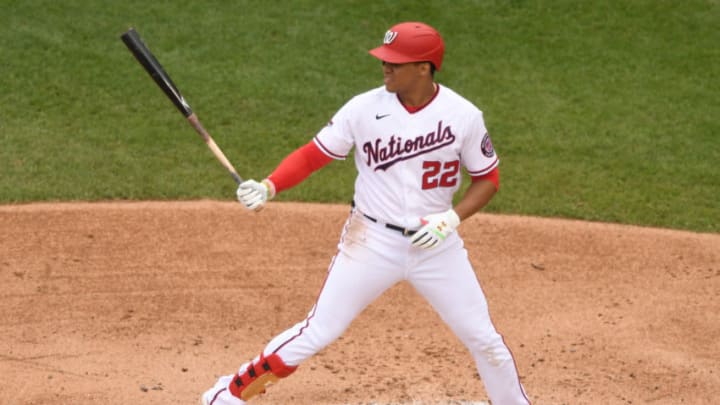 Juan Soto #22 of the Washington Nationals prepares for a pitch during a baseball game against the New York Mets at Nationals Park on September 27, 2020 in Washington, DC. (Photo by Mitchell Layton/Getty Images) /
It's that time of the year again. FanSided 250 for 2020 has been released, with some familar faces cracking the list.
For the last few years, FanSided has released FanSided 250, ranking the top 250 fandoms, including celebrities', sports, pop icons, and much much more. The employees of FanSided have gotten together to release this years updated list, which has come out quiet well.
What is the criteria for the making of this list? The makers of this list broke it down as such,
""This year, we've adjusted our values as well, placing a greater emphasis on buzz — how hot a fandom was in 2020 — than ever before. Our team took into account our longstanding values of magnitude (a fanbase's size and scope), legacy (longevity and loyalty of the fanbase) and passion, but buzz was most important. If the fans of a player, team or entertainer have buzz, we see them all over social media, they are inescapable, they dominate every physical and virtual water cooler conversation.""
Here is this years top 250. So where do the Washington Nationals and the players rank?
Starting off the list is the young phenom Juan Soto coming in at #230 overall and #35 in all of sports figures. This should come as no surprised after Juan Soto emerged as the best hitter in the league, hitting .351, with 13 homers, 37 RBIs, and an OPS of 1.185. If it wasn't for a positive COVID test in the beginning of the 2020 season, Soto would have won NL MVP. Soto was left off of the FanSided 250 list in 2019, making his inclusion all that sweeter. In fact, despite winning the World Series, there wasn't a single player that made the 2019 list. Talk about tough competition.
Following Soto, the team as a whole ranked #142 overall and 13th out of all MLB teams. A year after winning the World Series, Washington came crashing down to earth due to injuries and inconsistencies. Due to the down year, the team's ranking took a major hit, falling all the way to 142 from 45 the year before. Despite the Nationals posting their first losing record since 2011, they still received plenty of love from the judges. Hopefully next year, the team will rebound, which will culminate in Washington moving up the list, back to where they belong.