Washington Nationals: Kyle Schwarber signed in offense first move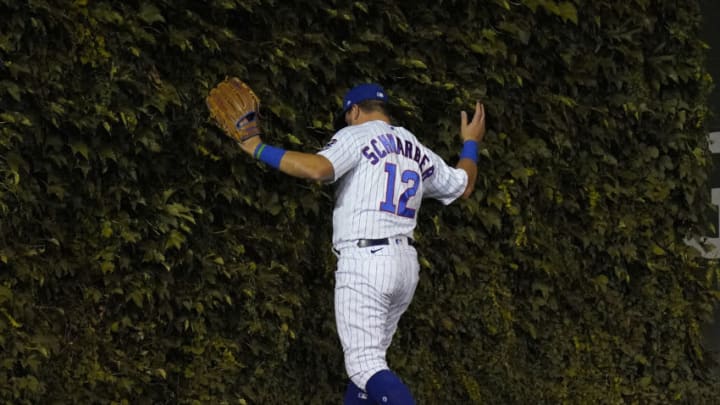 Kyle Schwarber #12 of the Chicago Cubs fails to catch a double by Max Kepler #26 of the Minnesota Twins during the seventh inning of a game at Wrigley Field on September 19, 2020 in Chicago, Illinois. (Photo by Nuccio DiNuzzo/Getty Images) /
Another piece to the puzzle has fallen into place as the Washington Nationals have signed outfielder Kyle Schwarber to a one year contract.
With the announcement Kyle Schwarber has been signed to a one year deal worth $10M, the Washington Nationals are sending a message. The goal of this year's team is to out slug the opposition, and out pitch them too. Hopefully, by not allowing the other team to put the ball in play, as the team being assembled by the Nationals is definitely not defensive minded.
Two years ago Schwarber hit 38 home runs. Two years ago, Josh Bell, who was acquired earlier in the offseason, hit 37 home runs. The Nationals wanted big bats this offseason. They have achieved this goal and are banking on the two big-boppers rebounding after down years in 2020.
Schwarber hit just .188 a year ago, and struck out once every third at bat. Bell hit .226 with a career low OPS of .669.
Regardless of whether these two reach their 2019 performances, they come with more power potential than that showed from Adam Eaton and Eric Thames, the guys they are replacing in the lineup from a year ago.
Where the problem lies is on the defensive side of the ball. In 2020 the Nationals ranked last in the major leagues in Defensive Runs Saved (DRS), at -43. A big part of this was the -11.2 put up in the Range Runs category (defined as, "the number of runs above or below average a fielder is, determined by how the fielder is able to get to balls hit in his vicinity," by Fangraphs).
While the Schwarber and Bell additions help the power numbers, they do nothing to address the defensive numbers. Bell had a DRS of -1 in 2020 and his lack of mobility around the base is concerning. Enough so, Ryan Zimmerman's potential farewell tour is being mentioned more as a late inning defensive replacement than a riding off into the sunset for all the years of service to the organization.
Schwarber was even worse in the field than Bell. His -3 DRS, ranked 65th or last, for all the Chicago Cubs players who qualified a year ago. Might we see a lot of Andrew Stevenson in the outfield as a late inning defensive replacement as well?
Kudos to the Nationals for bringing in some power bats to help ignite the offense. However, a year ago the team ranked 21st in the majors in total home runs, though were 10th in total runs scored. The offense wasn't necessary the problem, the defense was.
The Kyle Schwarber signing was a good one in terms of adding a heavy hitter to the middle of the lineup, but a bad one in terms of addressing the defensive needs on the team.