Nationals: Don't Sleep On Juan Soto To Win His First NL MVP Award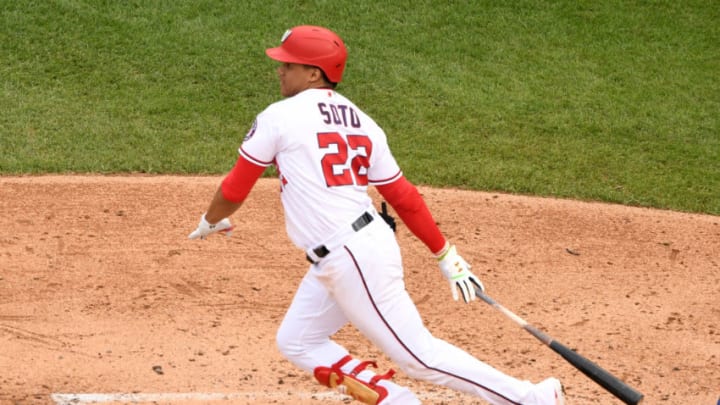 Juan Soto #22 of the Washington Nationals takes a swing during a baseball game against the New York Mets at Nationals Park on September 27, 2020 in Washington, DC. (Photo by Mitchell Layton/Getty Images) /
Juan Soto should be the favorite for NL MVP.
The National League is filled with some of the best hitters in the game. Mookie Betts, Christian Yelich, Ronald Acuna Jr., Bryce Harper, Manny Machado, Juan Soto, Trea Turner Nolan Arenado, Fernando Tatis Jr, Freddie Freeman, and Francisco Lindor are just a few who call the NL home. With this much offensive firepower in the NL, it comes as no surprise when the MVP race is always highly contested. On January 24, PointsBets updated their NL MVP odds with Mookie Betts as the odds on favorite at +500. Behind him is Christian Yelich and Ronald Acuna Jr. at +750, Cody Bellinger and Freddie Freeman at +800, and then the tri of Fernando Tatis Jr., Juan Soto, and Nolan Arenado at +1000.
While the odds are very close with no real gap between the group, it seems someone is once again being underrated. Juan Soto should be the odds on favorite to win NL MVP. The 22-year-old slugger has already emerged as arguably the best hitter in the game not named Mike Trout. Since entering the league in 2018, he is hitting .295, with 69 homers, 217 RBIs, and an OPS of .972. After finishing second in NL Rookie of the Year voting in 2018, he played a major part in the Nationals winning the World Series in 2019. On the biggest stage, Soto showed to the baseball world just who he really was. During that seven-game series, he hit .333, with three homers, seven RBIs, and an OPS of 1.178. His performance was worthy of World Series MVP honors, but instead, that award went to his teammate.
How did Soto follow up his World Series performance? By going on to win his first batting title of course. Soto only appeared in only 47 games due to a positive COVID test. Despite that, he hit .351, with 13 homers, 37 RBIs, and an OPS of 1.185. He led the NL in batting average, OBP, SLG, OPS, OPS+, and wRC+. But because he missed 13 games, he was unable to qualify to be an MVP finalist, finishing fifth.
Soto's defense could be the only factor that could hold him back, but he has been working hard to improve in the field. However, the young phenom isn't the only MVP candidate with his own flaws. Nolan Arenado played his entire career at Coors Field and had some severe home and away splits. Now that he is with the Cardinals, the veteran will need to prove he can produce high numbers at his new home park. Tatis Jr., Bellinger, Betts, Acuna Jr., and Freeman are all part of stacked lineups, containing other MVP candidates, which could cost them votes. While this wasn't a factor for Freeman in 2020, it is still something to keep an eye out for. Yelich struggled in 2020 and wasn't fully recovered from his broken kneecap. The slugger will need to fully overcome his injury in order to bounce back to his 2018 form.
Despite leading the league in five offensive categories in 2020, Soto is still being looked down on by the oddsmakers. Since his first full season in 2019, Soto is fifth in MLB in wRC+and SLG, fourth in OPS, and second in OBP. Throw in Soto now has protection behind him in the lineup in Josh Bell and opposing pitchers will be forced to face him more now. Despite what the oddsmakers say, expect Soto to build upon his 2020 season and bring home his first NL MVP award.