Cade Cavalli: From First Round Pick To Top Pitching Prospect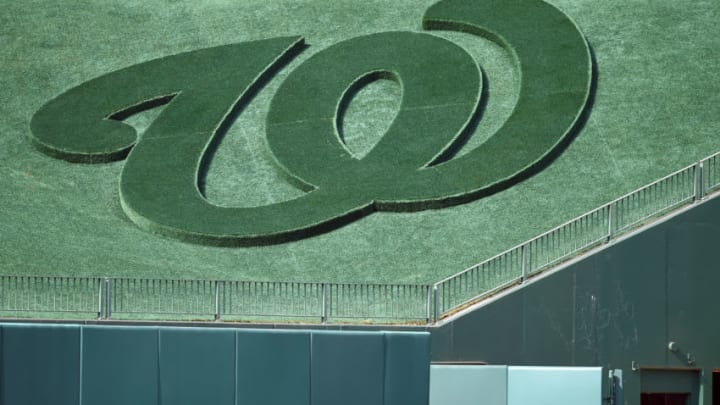 The Washington Nationals logo in centerfield grass before a baseball game against the Los Angeles Dodgers at Nationals Park on July 26, 2019 in Washington, DC. (Photo by Mitchell Layton/Getty Images) *** Local Caption *** /
Washington Nationals prospect Cade Cavalli on the Alternate Site and Spring Training
On June 10, all of Cade Cavalli's hard work and dedication finally paid off. He had just heard his name called during the first round of the 2020 MLB Draft. The former two-way player turned full-time starting pitcher, was selected by the then reigning World Series Champion Washington Nationals, at No. 22 overall. Washington was ecstatic because they believed they had gotten a steal.
Despite just being drafted, Cavalli knew this was only the beginning and continued to work on his craft until it was time for him to head to Fredricksburg, Virginia, the location for the Nationals Alternate Site. However, this was made more difficult due to COVID-19 which had swept the world.
"I know for a lot of guys during COVID, it was really tough to get access to facilities and have the access to go get better," Cavalli said. "Thankfully here in Tulsa, I have this complex, Sports Performance Institute, and they follow all the COVID regulations and kept it clean and only let a few guys in. I was able to work out there. During COVID, it was a really tough time. We weren't able to play baseball at all, but I was able to work on my craft and fine-tune some things before I left for Fredericksburg."
A month after being drafted, Cavalli reached the Nationals Alternate Site, an expanded Spring Training or summer camp. It replaced the canceled 2020 minor league season, where non-major league players on the team's 60 man player pool gathered. The next few months were very repetitive, only changing if Cavalli was starting or not.
On his start days which were usually scheduled for noon, he would arrive at the stadium a few hours before and catch up with his teammates in the locker room. From there, he would go through his routine, which usually consisted of a variety of drills made to simulate live games.
"We treated it like a game," Cavalli said. "Obviously, we didn't have the ability to get a full infield and outfield at the exact same time because they were hitting. It was based off of our coach. He would say if it was a hit or an out if it wasn't at a defender. We would have base runners, so we were working on holds and pickoffs. We kept track of runs, hits, and walks. It was a game atmosphere, but it was also live (at-bats) at the same time."
After practice, Cavalli would return to the hotel for the rest of the day. All of the players would hang out in each other's rooms, which was essentially their bubble, with food being ordered to the hotel because the coaches didn't want the players leaving.
When not at practice or at the golf course, Cavalli and his teammates would play cards and video games, getting to know each other better. On days when Cavalli wasn't starting, he would show up to the ballpark at 8:30 AM to lift, run, and throw. Practice was usually over between 11:30-12.
Up to this point, the Alternate Site provided the toughest competition Cavalli has faced. Many of the guys were on the Nationals' top 30 prospect list, including Yasel Antuna, the Nationals tenth-ranked prospect per MLB Pipeline. Antuna, a 21-year-old infield prospect, provided Cavalli with his toughest challenge during his stay in Fredricksburg.
"I had an 11-12 pitch at-bat against Antuna", Cavalli said. "He was just fouling everything off. I was throwing changeups, curveballs, fastballs up and he's got quick, quick hands. I was going in hard on him, going soft away and he was just touching it every time. Just knicking it, knicking it. I backed up two changeups. I went changeup and I think he was thinking hard in or something and ended up whiffing and I got him on that. It was a really tough AB. It was a lot of fun."
Despite not yet making his minor league debut, thanks in a large part to his performance at the Alternate Site, Cavalli found himself on MLB Pipeline's top 100 prospects for the 2021 season at #99 overall. Cavalli was able to impress with three plus pitches that include his fastball that averages around 95-98 mph and tops out at 101 mph.
He has a power curve with impressive depth, that hovers between 82-85 mph. However, the Nationals assistant GM of player development Mark Scialabba says his changeup might actually be his best pitch. "He's really learned to tunnel it well", Scialabba said in a past interview. Cavalli also has a slider he likes to utilize, that reaches the upper 80's.
Despite the prospect lists always popping up on his social media, Cavalli doesn't pay attention to the rankings.
"Yea, I see them, but honestly I don't care about them one bit", Cavalli said. Instead, he's confident in himself and his abilities. "It's cool you get ranked and get recognized in that way, but personally, I say this in the most humble way possible. I have crazy confidence in myself that, they are ranking guys above me and I'm like, okay, whatever. I see them. It's on my Instagram and Twitter. It lights a fire under me sometimes and I go get to work. I don't sit there and dwell and pout and wonder why I'm not ranked here. I'm gonna go prove it and that's my mindset with those rankings."
One of the biggest takeaways Cavalli walked away with from the Alternate Site is what Brad Holman, the Nationals pitching coordinator told him. To keep his hands and head working together.
"Just keep my hands and my head working with each other, working back over the rubber," Cavalli recalled. Cavalli credits Holman for helping him tweak his delivery.  "It just created my delivery to be on time and it made it very efficient. I held my velocity throughout the five or six innings. My stuff was just plain great. Sometimes I would get forward and my arm would be late and whenever he would tell me, just keep my head in tune with my hands. It just created this timing mechanism for me that was really good. If I ever got out of wack, I would just tell myself, hey keep your hands with your head and it would just put me right back on track. It was a really good fine-tune for me."
Holman's tip and Cavalli's execution were a major factor in his continued improvement at the Alternate Site.
Cavalli's summer caught the eyes of those in the Nationals organization, so much so that it earned him a Spring Training invite. Cavalli will report on February 17 to the Nationals site in West Palm Beach. The 22-year-old will enter camp with his eyes set on making the Nationals major league roster.
"I've never gone into a camp or anything with the mindset that I'm not gonna go win the job, Cavalli said. "I'm gonna compete and try and win that job."
All eyes will be on Cavalli as he looks to live up to his major-league aspirations.