Nationals: Max Scherzer and some Opening Day run support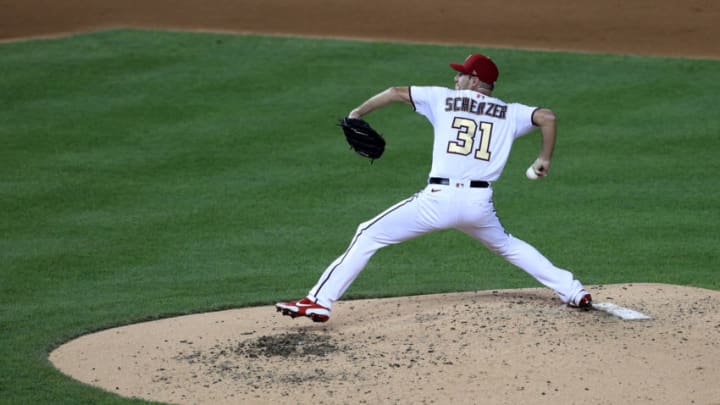 Starting pitcher Max Scherzer #31 of the Washington Nationals throws to a New York Yankees batter during Opening Day at Nationals Park on July 23, 2020 in Washington, DC. The 2020 season had been postponed since March due to the COVID-19 pandemic. (Photo by Rob Carr/Getty Images) /
Opening Day is 2021 is here! Time to get out the red, white and blue bunting to hang around the stadium, make sure the rosin bag is on the mound, and the pine tar in the on deck circle. Real baseball is back!
The Washington Nationals will host the New York Mets in a battle of teams who finished tied for the worst mark in the National League East a year ago. Neither team is expected to spend any time in the cellar this season. With the Mets adding Francisco Lindor, James McCann, Carlos Carrasco and others to the roster they are picked by many to compete for the division title along side the Atlanta Braves.
Not to be outdone, the Nationals traded for Josh Bell, signed Kyle Schwarber and Brad Hand in hopes of getting back to the postseason after a dreadful 2020 campaign.
Game 1 of the season will feature a pitching matchup of Jacob deGrom and Max Scherzer.
Washington Nationals starter Max Scherzer looks for a little bit of run support, something he's never gotten on Opening Days of yesteryear.
When Scherzer toes the rubber for the Nationals he'll be making his sixth Opening Day start since joining the team in 2015. In the five starts he's made before, the Nats have given him a total of six runs of support while he was pitching (they scored two runs after he was pulled in 2016, giving the Nats a 4-3 win against Atlanta).
What is even worse, Scherzer has only given up eight earned runs in those five starts (half of which came at the hands of the New York Yankees a year ago). Mad Max has been saddled with three losses on Opening Day, and a large part is because his offense doesn't provide run support.
Granted, the Nationals hitters are going up against the ace of the opposing team's staff, scoring runs usually comes at a premium.
In 2019, the Nationals faced deGrom on Opening Day and could only muster five hits against the guy who would later win the Cy Young that year. Four singles and a Victor Robles double is all the Nats could scratch out the entire game as three Mets relievers combined for three perfect innings after deGrom departed. Robinson Cano hit a first inning home run to put the Mets ahead early.
A year ago, the Nationals scored one run, on one hit, in support of Scherzer on Opening Day. Rain ended the game after five and a half innings, with Giancarlo Stanton's first inning home run ending the Nationals on the season's first day.
The combination of first inning home runs allowed and no run support has doomed Scherzer and the Nationals in the past.
It's a new year, a new lineup, and a new opportunity to score some runs, making Max Scherzer a winner on Opening Day.