Nationals: Three Takeaways From Opening Day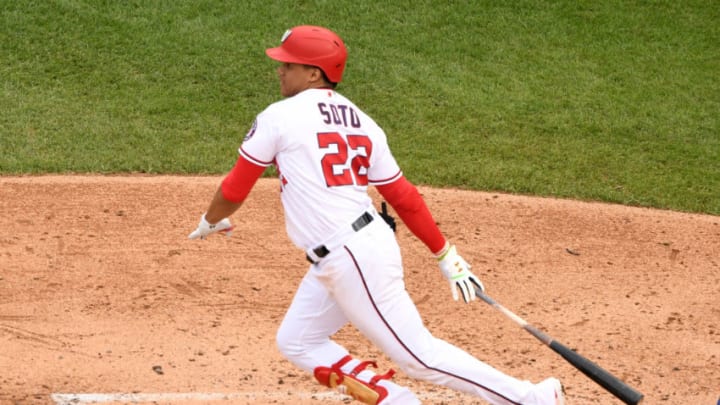 Juan Soto #22 of the Washington Nationals takes a swing during a baseball game against the New York Mets at Nationals Park on September 27, 2020 in Washington, DC. (Photo by Mitchell Layton/Getty Images) /
Washington walked off the Braves in a thriller to start the season!
It took a few extra days, but Washington was finally able to start their 2021 season and Opening Day was a doozy. After falling behind early 3-0, Washington battled back and walked off the Braves, 6-5. Here are three takeaways from game 1 of 162.
Max Scherzer Was Up And Down
Ace Max Scherzer took the mound for his sixth Opening Day start with Washington. Sadly, he struggled right out of the gate. Ronald Acuna Jr. took him deep on the first pitch to put Atlanta up 1-0. Later in the same inning, Freddie Freeman followed suit and launched a solo shot of his own. The next inning Dansby Swanson added the Braves third solo homer, before Ronald Acuna added his second homer of the game for good measure. However, the offense had Scherzer's back and allowed for the ace to relax. He gutted through six innings allowing four runs on five hits, with no walks, while striking out nine. While it took some time, the future Hall of Famer finally settled down and retired the last ten in a row.
Andrew Stevenson Is A Stud
This past off-season Washington allowed Michael A. Taylor to walk because they trusted Andrew Stevenson to be the team's new fourth outfielder. No one expected for the speedster to be starting on Opening Day, but that was the case today. Kyle Schwarber is out due to COVID/contact tracing, leaving a void in left. Stevenson was up to the challenge and then some. While the top of the lineup took some time to get going, the outfielder started the game off by launching a rocket that bounced off of Ozzie Albies that was called an error. Jonathan Lucroy drove him in with a two-run double, that put the Nationals on the board. He finished the game 2-4, with an RBI and a run scored.
Stevenson has excelled in the past, but only in a small sample size, so it was very reinsuring to see the 26-year-old make his presence felt.
Juan Soto Called Game
While the majority of Washington's lineup got going early, superstar Juan Soto was held in check for the most of the game. He started the game 0-4, with a strikeout and was just being dominated at the plate. But like superstars always do, he came through when it mattered. Soto came up in the bottom of the ninth with two on and no out, with his old nemesis Will Smith on the mound. Smith fell behind quickly 3-0 and served up a meatball that Soto drove into centerfield for the walk off hit.
When asked after the game if he was hesitant at swinging on a 3-0 count he responded with an amazing one line. "Aw hell no", he said.  Soto finished 1-5 with an RBI.