Nationals: Pretty sure DJ LeMahieu is Patrick Corbin's cousin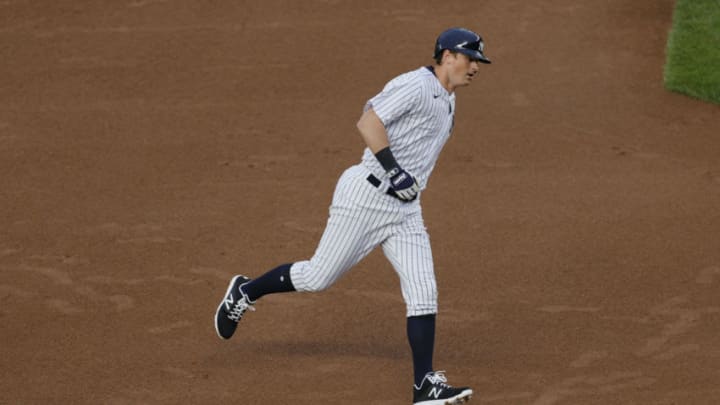 DJ LeMahieu #26 of the New York Yankees rounds third base after hitting a home run during the first inning against the Washington Nationals at Yankee Stadium on May 07, 2021 in the Bronx borough of New York City. (Photo by Sarah Stier/Getty Images) /
Can someone break out the family tree for us and show us which side of the family connects DJ LeMahieu to Patrick Corbin. The two have to be related, right? LeMahieu took Corbin deep two times in the Yankees/Nationals opener, and ended the night a perfect 3-3 at the plate while facing the Nats left-hander.
Were this a one time thing, we could chalk the performance up to LeMahieu just having a good night. It's been a career thing, however.
DJ LeMahieu has hit Nationals pitcher Patrick Corbin well over the course of his career.
LeMahieu has 54 official at-bats against Corbin in his career. He has 21 hits. More than against any other pitcher he has faced. That equates to a .389 batting average, with a very substantial sample size. What about the two home runs, is that an anomaly? Nope. LeMahieu has six career jacks off Corbin, more than any other pitcher he's faced. What about triples. The three, three-baggers DJ has legged out. Yep. More than any other pitcher he has faced.
While Corbin tried to bust LeMahieu in a couple times, DJ was able to get his hands extended with ease. He looked very comfortable when hitting and very joyful after returning to the dugout after his seventh inning, game tying long ball.
The reaction from Corbin. Sheer frustration. Corbin all but had a "what can I throw this guy that he won't hit a mile" look on his face, while screaming into his glove. He may have been set off by giving up the one run lead. He may have been upset with giving up another home run in the game, the third one he had surrendered (Gary Sanchez tagged him as well). He was probably mad that he continues to challenge LeMahieu and gets beat.
Corbin has turned his season around recently. In three of his first four starts, Corbin failed to pitch five innings. He followed up a seven inning beauty against the Miami Marlins, with six innings this time out. While he takes home a no decision, he is rounding back into the form he was in during the 2019 season, his first year with the Nationals.
As for LeMahieu, I'm sure he'll be laughing at this performance the next time he runs into Corbin at a family reunion.