Washington Nationals: Three Prospects To Keep An Eye On Come Draft Night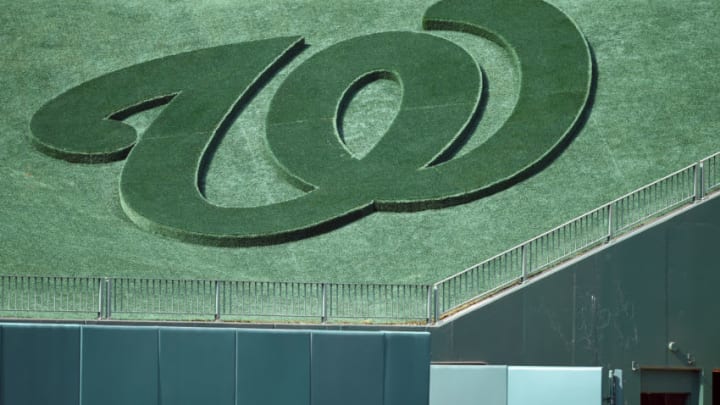 The Washington Nationals logo in centerfield grass before a baseball game against the Los Angeles Dodgers at Nationals Park on July 26, 2019 in Washington, DC. (Photo by Mitchell Layton/Getty Images) *** Local Caption *** /
Who should Mike Rizzo select come draft night?
Believe it or not, the 2021 MLB Draft is quickly approaching. Set for July 11-13, Washington has the 11th overall pick in the draft. With a barren farm system, the Nationals need to take advantage of their draft placement. While the top players will be long gone (Leiter, Rocker, Lawler, Mayer), there will still be plenty of intriguing talent come pick 11. Here are three players Mike Rizzo and company should consider on draft night.
Ty Madden, RHP Texas
Outside of the Vanderbilt duo of Kumar Rocker and Jack Leiter, Ty Madden is arguably the best college arm available. Mike Rizzo has drafted a pitcher in the first round the last five years in a row and Madden checks all the boxes.  Since entering college, Madden has gained 35 pounds and is now 235 pounds, standing at 6'3.
In 13 starts this season, Madden is 6-3, with a 2.55 ERA, and 98 strikeouts, while holding opponents to a .201 batting average. Since entering Texas in 2019, the righty has continued to increase his strikeout rate, while lowering his hit rate.
MLB Pipeline broke down Madden's pitching repertoire stating,
"Madden topped out at 95 mph in high school and now operates at 93-96 with sink and bore on his fastball after reaching 99 mph during the fall. His best offering at Cypress Ranch was his slider, which has gained velocity and arrives in the mid-80s with late bite. His fading low-80s changeup gives him a solid third offering and he also can mix in an upper-70s curveball with depth but less consistency than his slider."
Mike Rizzo has built his team on the back of strong starting pitching and Madden has the upside to be the future of the rotation.
Kahlil Watson, SS Wake Forest (NC)
The last high school position player Mike Rizzo drafted in the first round was Carter Kieboom (2016). Kieboom has yet to live up to his draft billing, but that shouldn't deter Washington. Kahlil Watson has some of the best bat speed in his class and has an impressive eye at the plate.
Watson's season didn't start till April, but he is off to a blazing start. In eight games, the youngster is hitting .458, with one homer, four RBIs, and an OPS of 1.414.  Be it a small sample size, the youngster has impressed at all facets of the game.
Defensively, Watson has a strong arm and can play both middle infield positions. MLB Pipeline broke down his bat, stating,
"Watson plays bigger than his listed 5-foot-9 and 178 pounds at the plate. He has plenty of bat speed and takes a big left-handed cut, giving him at least solid raw pop. Though he has an aggressive power-over-hit approach that may need toning down against more advanced pitchers, he does make consistent contact and doesn't chase pitches out of the strike zone too often."
Washington's farm system need's an infusion of talent and Watson's offers just that.
Harry Ford, C, North Cobb (GA)
Drafting for needs in baseball is never a smart decision, especially if it's a high school catcher, but Harry Ford is well worth the risk. Known for his athleticism, Ford has been compared to Craig Biggio due to his ability to play multiple positions, but surprisingly his best attribute is his speed.
Many believe he has what it takes to stick behind the plate, but he has the arm and athleticism to play almost anywhere on the diamond.
MLB Pipeline broke down his offensive abilities, stating,
"Ford features some of the best bat speed in the high school class and has a track record of making loud contact against quality pitching, though he sometimes tries to do too much at the plate. He's also strong and has good leverage in his right-handed swing, so he has all of the ingredients to have average or better power. He's very fast for a catcher, clocking a 6.42-second time in the 60-yard dash at the East Coast Pro showcase."
Ford has been projected all over the first round in mock drafts, but his athleticism should draw Rizzo's attention.