Washington Nationals: Weekly Minor League Player Spotlight (June 14-20)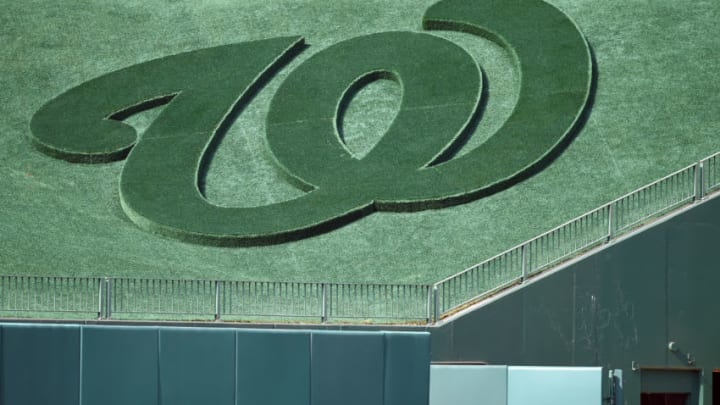 The Washington Nationals logo in centerfield grass before a baseball game against the Los Angeles Dodgers at Nationals Park on July 26, 2019 in Washington, DC. (Photo by Mitchell Layton/Getty Images) *** Local Caption *** /
Who were this week's top prospects in the Nationals farm system?
Last week we introduced our new column, Weekly Minor League Player Spotlight, covering top performances from the Nationals prospects. This week, we continue with the spotlight over the Organizations Double-A affiliate.
Cade Cavalli and Matt Cronin
Both Cade Cavalli and Matt Cronin were included last week for good reason. The two's respective outings led to them both being promoted to Double-A. So how did the duo perform at the next level?
Matt Cronin continued his dominance out of the pen, allowing only one run in three innings. He struck out four and only issued one walk.
Cavalli started off his Double-A debut with a bang, striking out the first batter he faced. However, he allowed a run in both the first and second innings, before finally setting down. Through six innings, he struck out six, but his control was off, seen by his four walks. His offense was unable to bail him out and they lost 2-0.
After early jitters, Cavalli settled down and was able to hammer the strike zone with ease. Overall, it was an impressive debut for the future of the Nats rotation and bullpen.
The Harrisburg Bullpen
Sticking with the Nationals Double-A affiliate Harrisburg Senators, the team's backend of the bullpen has been lights out. The trio of Pearson McMahan, Frankie Bartow, and Gabe Klobosits has led the charge.
McMahan, a fourth-round pick by the Rockies in 2017, spent two years with the Organization before signing with Washington in 2019. After struggling in his first few years in the minors, the 24-year-old is finally coming into his own. In 17 innings this season, he is 3-2, with a 1.06 ERA, and 10 strikeouts.
This past week saw McMahan give up one run, be it unearned in three innings. After a strong start to the season, the righty finally proved he was human, allowing five baserunners (three hits, two walks).
Drafted by Washington in the 11th round in 2018, Bartow is the second part of the bullpen's dominant trio. He stumbled during the 2018 season at Single-A, but bounced back in 2019, finishing with a 1.86 ERA in 53.1 innings.
After the 2020 season was canceled because of COVID, the 24-year-old has not missed a beat. In 15 innings this season, he is 0-1, with a 1.20 ERA, and 33 strikeouts. This past week Bartow was busy, making three appearances and only giving up one unearned run in four innings. He allowed two hits and two walks, while striking out two.
For those that haven't heard of Gabe Klobosists, pay attention. Drafted by Washington in the 36th round in 2017, the righty has flown under the radar. But now, the 26-year-old is finally breaking out, thanks to not allowing a run in 17 innings. This past week, he made one appearance, throwing two scoreless innings, while striking out two. He ran into a little trouble thanks to a walk and two hits, but he was able to escape unscathed.
The Harrisburg bullpen has been nails this season and does not seem to be slowing down. Thanks to the addition of Cronin, it will only become more formidable.