FanSided's MLB 2021 Mock Draft Results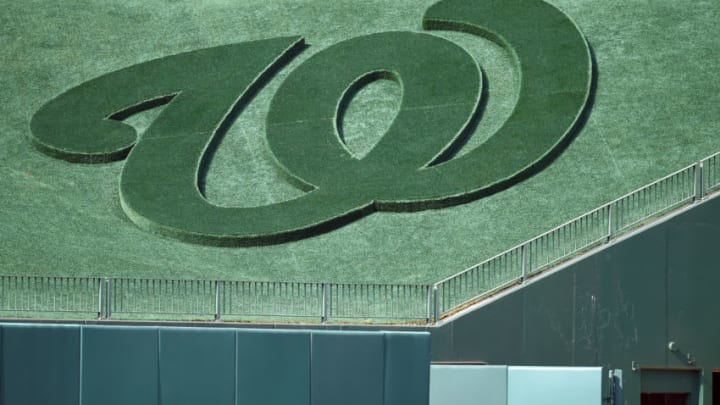 The Washington Nationals logo in centerfield grass before a baseball game against the Los Angeles Dodgers at Nationals Park on July 26, 2019 in Washington, DC. (Photo by Mitchell Layton/Getty Images) *** Local Caption *** /
FanSided's 2021 MLB Mock Draft is in the books and the results are in.
Earlier today, FanSided's baseball department had a mock draft, with each Twitter account drafting for their respective team.
Call To The Pen, our baseball account that follows every team, filled in for those that could not make it today. Here are the results.
#1) Rum Bunter (Pirates): Marcelo Mayer, SS, Eastlake High School CA
#2) Nolan Writin (Rangers): Jack Leiter, RHP, Vanderbilt
3) Motor City Bengals (Tigers): Brady House, SS, Winder-Barrow HS
#4) BoSox Injection (Red Sox): Henry Davis, C, Louisville
#5) Birds Watcher (Orioles): Kahlil Watson, SS, Wake Forest HS
#6) (Rox Pile)  (Arizona): Kumar Rocker, RHP, Vanderbilt
#7) Kings Of Kauffman (Royals): Ty Madden, RHP, Texas
#8) Rox Pile (Rockies): Jordan Lawler, SS, Jesuit Prep (Tx)
#9) Call To The Pen (CTTP) (Angels): Jackson Jobe, RHP, Heritage Hall HS
#10) CTTP (Mets): Colton Cowser, OF, Sam Houston
#11) District On Deck (Nats): Will Bednar, RHP, Mississippi State
#12) SoDo Mojo (Mariners): Matt McLain, SS, UCLA
#13) CTTP (Phillies): Jordan Wicks, LHP, Kansas State
#14) Around The Foghorn (Giants): Sal Frelick, OF, Boston College
#15) Reviewing The Crew (Brewers): Gunnar Hoglund, RHP, Ole Miss
#16) Marlin Maniac (Marlins): Harry Ford, C, North Cobb HS (GA)
#17) Blog Red machine (Reds): Andrew Painter, RHP, Calvary Christian HS (FL)
#18) Redbird Rants (Cardinals): Benny Montgomery, OF, Red Land HS (PA)
#19) CTTP (Blue Jays): Jaden Hill, RHP, Louisiana State
#20) Yanks Go Yard (Yankees): Matt Mikulski, LHP, Fordham
#21) CTTP (Cubs): Joe Mack, C, Williamsville East HS (NY)
#22) Southside Showdown (White Sox): Mat Nelson, C, Florida State
#23) MCB (Indians): Sam Bachman, RHP, Miami (Ohio)
#24) CTTP (Braves): Max Muncy, SS, Williamsville East HS (NY)
#25) White Cleat Beat (Athletics): Michael McGreevy, RHP, UC Santa Barbara
#26) Puckett's Pond (Twins): Gavin Williams, RHP, East Carolina
#27) CTTP (Padres): Bubba Chandler, RHP/SS, North Oconee HS (GA)
#28) Rays Colored Glasses (Rays): Colson Montgomery, 3B, Southridge HS (IN)
#29) Dodgers Way (Dodgers): Jud Fabian, OF, Florida
What Stands Out
Marcelo Mayer started things off by going number one overall to the Pirates. No surprise, as the righty has been mocked more and more to the Pirates in the recent weeks. Jack Leiter followed by being selected number two overall. He is the best player on our board and due to signing concerns, Leiter could fall a few picks. But if he slips, expect Boston to snag him at four.
The first big surprise of our mock draft was Jordan Lawler falling to eight. The high school shortstop shot up draft boards and is MLB Pipeline's third-ranked prospect. In their report of the 18-year-old, they stated,
""Lawlar is a more polished hitter than Witt was at the same stage with a quick, compact right-handed swing and a mature, patient approach, though he has struck out more than expected as a senior. He focuses on working the gaps and has a knack for inside-outing balls to right field. With his bat speed and the projectable strength in his 6-foot-2 frame, he should develop solid power once he adds strength and starts turning on more pitches."
Lawler, Mayer, Brady House, and Kahlil Watson are all prep shortstops that were taken in the top 10 of our mock draft. Expect similar results tomorrow night.
Kumar Rocker was selected at number six overall by the Diamondbacks. The Vanderbilt Co-ace is one of the biggest wildcards in the entire draft. Entering the 2021 season, he was the projected number one overall pick, but inconsistencies pushed him down pro scouts big boards. MLB Pipeline broke down his tools stating,
""The son of former NFL defensive lineman Tracy Rocker, Kumar is a physical right-hander who can overpower hitters with his fastball and breaking pitches. He usually operates at 93-96 mph with his heater, which can reach 99 and features some run and sink but also can get flat at times, though his velocity sat in the low 90s for three weeks early in the season. He notched all 19 of his whiffs in his no-hitter with his slider, a mid-80s beast with power and depth that grades as plus-plus, and he also has a low-80s curveball with more vertical break.""He throws strikes but has just average command, and he'll need more finesse for days when he doesn't have his top-notch stuff.""
Rumor has it he may slip on draft day, but it would be a pipe dream that he would be available for Washington at pick 11.
Another player that slipped in our mock draft was Sam Bachman, falling to the Indians at 23. The University of Miami, Ohio ace has one of the most electric heaters in the draft. It averages 94-97 mph while topping out at 101 mph. MLB Pipeline's 14th ranked prospect, some believe he projects to be a reliever, leading to him to slip during the actual draft.
Our Pick
Entering the mock draft, we were hoping for Ty Madden or for one of the top talents to slip. Unfortunately, that was not the case. When it came to our pick, it came down to Will Bednar, Gunnar Hoglund, or Sam Bachman. Matt McLain and Sal Frelick were also considered, but we know that hasn't been Mike Rizzo's MO.
Hoglund's recently undergoing Tommy John surgery and Bachman carrying some reliever risk made our decision easier for us. Will Bednar was a stud at Mississippi State and made a name for himself during the College World Series. He was given the nod for the decisive Game Three on short rest and delivered a gem. The ace threw six shutout innings, while not allowing a hit. He walked three and struck out four.
Mike Rizzo likes to draft tall righties with a hard fastball and Bednar fits the mold. He stands at 6'2 and averages 93-95 mph while topping out at 97 mph. In MLB Pipeline's description of Bednar, they stated,
""Bednar's previous exposure at Mississippi State consisted of just 15 1/3 innings a year ago before he opened eyes with sterling stuff in the fall that has carried over into 2021. He sits at 93-95 mph and tops out at 97 with his fastball, which can exhibit both heavy life and riding action. His mid-80s slider has become a consistent plus pitch this spring, surpassing his solid upper-70s curveball with depth.""Bednar also has the makings of at least an average changeup and is pounding the strike zone more than ever, two more ingredients that add to his mid-rotation starter's profile. He doesn't have the cleanest delivery, but he makes it work and has a 6-foot-2, 229-pound frame built for durability.""
Come tomorrow night, expect Madden, Bachman, Hoglund, and Bednar to be atop the Nationals draft boards. Unless one of the top prep shortstops falls, it is safe to assume the Nationals will draft another pitcher in the first round.