Cole Henry Won't Let His Injury Deter Him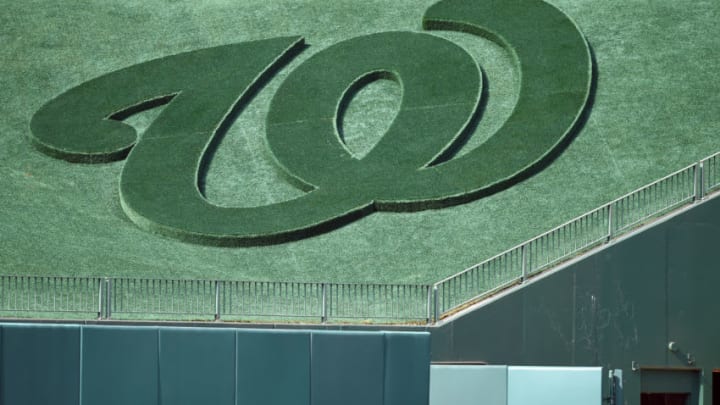 The Washington Nationals logo in centerfield grass before a baseball game against the Los Angeles Dodgers at Nationals Park on July 26, 2019 in Washington, DC. (Photo by Mitchell Layton/Getty Images) *** Local Caption *** /
Stress Reactions. COVID. Elbow Issues. Cole Henry hasn't allowed injuries to derail him on his path to the Majors.
For many of the top 2020 MLB draft picks, the season was spent at their team's respective Alternate Sites. But this wasn't the case for Cole Henry, the Washington Nationals 2020 second-round pick. The righty out of LSU, unfortunately, was hit hard with COVID, forcing him to recover and regain his strength.
During the off-season, Henry went to Cressy Sports Performance in Jupiter Florida to focus on his body's deficiencies and learning how to improve them. The major focus was on his hip and shoulder mobility in order to refine his mechanics.
Fast forward to the start of this year's Minor League season and Henry was healthy and eager to go. On May 7, 2021, he made his Minor League debut for the Wilmington Blue Rocks, Washington's High-A affiliate. The righty allowed four runs across five innings on five hits, while walking two, and striking out six. Nerves were definitely a factor, but the 22-year-old was far from upset at his professional debut.
"I definitely was nervous, kinda excited", Henry said. "You hear a bunch of stuff about how Pro ball is and how much tougher it is than College, so I didn't know what to expect.  Being my first game, I was really jacked up. Whenever you let your emotions get the best of you, the outcome isn't great. Especially when you're trying to make pitches and you try to blow fastballs by people instead of locating them."
With his first start behind him, Henry flushed it from his mind and met with his coaches. They started focusing on what went right and what went wrong. Six days later, Henry was on the mound for his second career start and this time around he knew what to expect.
From the get-go Henry put on a show, throwing six shutout innings while striking out a career-high 10 batters. Starting with the first pitch, the Jersey Shore BlueClaw hitters were baffled and could only muster one baserunner against Henry. He gave up a single by Jhailyn Ortiz, the Phillies number 23 prospect.
Henry's dominance on the mound stemmed from his ability to execute his secondary pitches. He was able to take advantage of getting ahead in the count, which had doomed him in his first start.
"I think my biggest problem was I would get ahead of batters, but couldn't put them away", he said. "I would get them 0-2, 1-2, but couldn't get that curveball over for a strike, couldn't throw a changeup. That was kind of tough pitching with basically just one pitch, my fastball."
After allowing four runs in his first start, Henry has only allowed four total runs across his last four starts. At practice, developing an out pitch was a must, and his changeup and curveball have become instrumental in his recent success on the mound.
"After my first start I worked with my pitching coach Justin Lord on getting an out pitch together", he said. "You just have to have at least one. We worked hard on my changeup and really my curveball… And making sure once I got the 0-2, 1-2, I could put my cleat on their throat and finish them."
Gameday routines play an important part in a player's success and Henry is no different. On start days, he wakes up at 10 am and eats a light meal so he doesn't feel off the rest of the day. From there, he likes to walk around town and check out the different stores. He usually enjoys taking a river walk that is close to the stadium to clear his head. After, he heads to the ballpark to catch up with his teammates and start preparing for his start.
"I try to go in pretty relaxed and act like I don't have any jitters", he said. "Walk in and act like it's another day. It's just Cole."
Standing at 6'4 and 215 pounds, Henry is viewed by Nationals General Manager Mike Rizzo as a firm part of the team's future rotation. With Max Scherzer no longer in D.C., the seeds have been sown for top pitching prospects Josiah Gray, Cade Cavalli, Jackson Rutledge, and Henry to anchor the rotation for years to come.
While he may lack the overwhelming power that some of the other Nat's top pitching prospects possess, Henry's pitch location and movement have allowed him to flourish on the mound. He uses a four-pitch mix led by his two-seam and four-seam fastballs that sit around 94 mph. His curveball has impressive depth and has the potential to be an elite secondary offering. Rounding out his pitching arsenal is his changeup that fades well.
When on the mound, Henry has been able to showcase why he entered this season as the National's number three prospect. But the problem for him has been staying on the mound.  Injuries have plagued Henry early on in his career, dating back to his freshman year at LSU when he suffered a stress reaction in his upper arm, while also battling an elbow issue. Currently, he is sidelined with elbow inflammation, but he already has his eyes set on returning to the mound.
"I have been on my throwing program and everything has been feeling great," he said. "Everything has been looking great as far as video. I'm feeling like myself again. I just had a blip with my elbow, nothing major. Just a little bit of inflammation and they are being really cautious about it, which is a good thing."
His injury partly stemmed from his 2020 season being a wash. His COVID diagnosis hindered his ability to start conditioning his body to where it needs to be to handle the rigors of a 120-game season.
Henry, who is back in Jupiter Florida didn't throw the first four weeks after he arrived. Instead, he was on a shoulder and arm strengthening program and recently has been hammering full-body workouts. The goal has been packing on muscle and making sure another injury setback won't occur moving forward.
Part of what makes Henry so tough on the mound is his mindset. He is well aware of the strain pitching puts on his body and knows he needs to continue pushing forward.
"It is a part of being a pitcher", Henry said. Everybody goes through these things, especially as a pitcher. Pitching isn't really something your body's made to do, so it's something that's really tough on your arm and body. Just trying to get out there every fifth day is tough work, it's a grind."
Henry hasn't allowed the multiple injury setbacks over the last few seasons to affect his performance on the field. In five starts this season, Henry is 1-3, with a 3.00 ERA, and 35 strikeouts, while opponents are hitting a measly .171 against him.
With the Minor League Season slowly winding down, Henry has his eyes set on making his return to the mound in the next few weeks. Last week he was able to throw a bullpen and is set to pitch to live batters come Monday.
"Hopefully, we will be ready to rock in a few weeks, probably close to a month", Henry said. "I'm ready to get back out there and I'm just excited to see what the rest of the season holds. And once I get back on the mound, just finding that consistency that I had at the beginning of the season. Every game I felt like I was the same pitcher every time. Everything felt in sync and ready to rock."
With rehab going smoothly, fans should be ecstatic to see Henry back on the hill soon to finish the season.