Nationals: DoD Writers Answer Important Free Agency Questions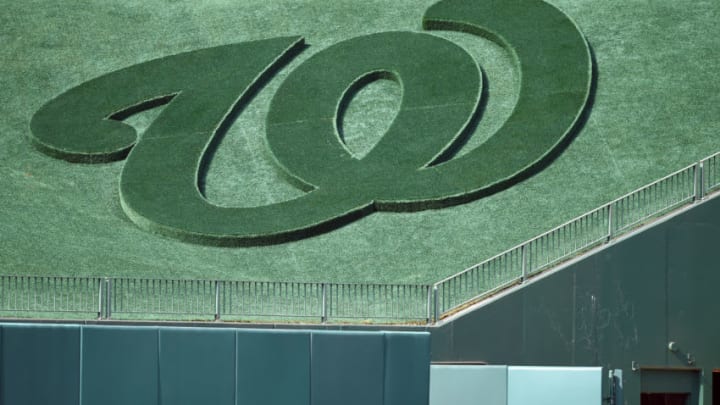 The Washington Nationals logo in centerfield grass before a baseball game against the Los Angeles Dodgers at Nationals Park on July 26, 2019 in Washington, DC. (Photo by Mitchell Layton/Getty Images) *** Local Caption *** /
CINCINNATI, OHIO – SEPTEMBER 19: Gavin Lux #9 of the Los Angeles Dodgers runs the bases during a game between the Los Angeles Dodgers and Cincinnati Reds at Great American Ball Park on September 19, 2021 in Cincinnati, Ohio. (Photo by Emilee Chinn/Getty Images) /
Who is one player you want to see Washington trade for?
Max Rayman: Last off-seasons trade market was littered with high-end superstars, but it was the San Francisco Giants who came away with the biggest steal. They acquired LaMonte Wade Jr. for pitcher Shaun Anderson. At the time, Wade was a struggling outfielder, but this season he blossomed with the Giants, hitting .253, with 18 homers, 56 RBIs, and an OPS of .808.
As I mentioned earlier, the Nats have plenty of holes and will be hard-pressed to fill them. They need to follow the Giant's path and should target younger players who are blocked for playing time or need a change of scenery.
James Simmons: I don't have any names, though I'd like to see some bullpen depth acquired, similar to the Kyle Barraclough and Ryne Harper trades which have recently taken place. Now, these two guys haven't worked out the way the Nationals would have wanted them to, but they didn't cost anything either. There are only a couple players who have guaranteed jobs entering spring, everyone else will be battling for a job. Why not add a couple other arms to the mix and see if a diamond in the rough can be found. Maybe find a guy or two who are coming off of a poor year. Rizzo has traded for several arms over the past few years, time to go after a few more.
Nationals Source: I really don't see any big trades taking place, but if the Nationals really wanted to I think we could find some good change of scenery guys out there. Keston Hiura or Gavin Lux comes to mind. Two guys that have struggled recently, but if things turned around in a new place they could be a part of the future. Obviously, there is zero chance we get one of them for Kieboom straight up, but maybe him and some additional pieces. As much as id hate it I could even be talked into swapping Victor for one of them as their position fits our needs more. Two big focuses of any trade should be not giving up a large amount of future value and making sure the return can be part of that future.
Joe Edelen: One player I'd like to see the Nationals trade for would be Whit Merrifield of the Kansas City Royals. Last season, Merrifield was an AL All-Star, tied for the major league lead in doubles with 42, and finished second in stolen bases with 40. One of the best attributes that Merrifield would bring to Washington would be his versatility. The ability to be able to move Merrifield around from the infield to the outfield would be beneficial, and Merrifield would certainly add speed to a Nationals' lineup that is lacking it so heavily. With the potential additions of Marte and Merrifield, the Nats would add proven major league talent to its lineup, as well as the top two stolen base leaders in 2021, which would be huge for this lineup post-Trea Turner.