Washington Nationals: Prospects That Could Impact The Big League Club In 2022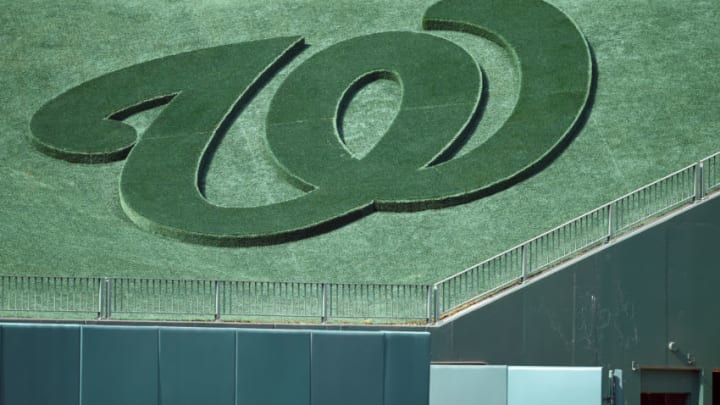 The Washington Nationals logo in centerfield grass before a baseball game against the Los Angeles Dodgers at Nationals Park on July 26, 2019 in Washington, DC. (Photo by Mitchell Layton/Getty Images) *** Local Caption *** /
The Washington Nationals are going to need some prospects to step up in 2022. These four could provide some impact for the Nationals.
The Washington Nationals have not had a lot of talent in the minors to call up to fill in holes or make an impact in recent years. That is beginning to change slowly and there are a few prospects outside of the obvious big names that could help the big league club in 2022.
Gerardo Carrillo
Gerardo Carillo was acquired in the Max Scherzer and Trea Turner deal this past season. He has been used as a starter for most of his time in the minor leagues with the Nationals and the Dodgers. This past year he started 22 games and had an ERA over 4.00. That kind of performance doesn't immediately scream impactful player. How impactful Carillo is on the 2022 season will depend on how the Nationals view Carillo as an addition to their pitching depth. Do they look at him as a starter or a reliever?
If they decide to hold on to hope that he can be an effective starter we won't see Carillo until at least September, but if they decide to focus on him as a reliever we could see him in DC much earlier. One of the main reasons he has struggled as a starter is that he walks a batter every two innings and can get tired toward the end of starts. Those problems would be lessened as a reliever because he could get through an inning based on his great stuff alone.
He has a fastball that can hit 100 and being a reliever might allow him to go all-in and empty the tank in a smaller amount of time. I could see Carillo being a part of the end of our bullpen by the middle of the season and he could provide a lot of help there.
Jake Alu
Jake Alu was on a hot streak for the first half of 2021 and many thought he could see some time at the end of 2021 in DC. That hype died down a little in the second half of the season, but he remains an option for bench depth next year. Although the chances of this happening have taken a hit this last week with the additions of Dee Strange Gordon and Maikel Franco, Jake Alu could still find his way onto the big league roster.
Alu was drafted in 2019 after having a pretty good run at Boston College. The offensive numbers have been pretty solid throughout his minor league tenure and he can play anywhere on the field. His defensive versatility is the most likely reason he will make it to the big leagues. He could be a great bench piece for a team that is in need of someone who can slot in anywhere on the field.
If I had to pick one minor leaguer that would have debuted last year I would have picked Cronin. He still is the closer of the future in my eyes and likely would have made that even more clear in 2021 if it was not for some injury issues. He relies mostly on his mid 90s fastball with a high spin rate and an above-average curveball that has allowed him to strike out around 15 per 9 over his minor league career so far.
The numbers are great, but he also has a closer pedigree from his college days at Arkansas. His pitch mix will be what makes or breaks him as an elite future closer. We have seen what relying on a good fastball can do to a pitcher or relying too much on any one pitch. Corbin and Doolittle for example were at their best when they were able to use their best pitch along with another good one to back it up. He is going to be one of the centerpieces of the Nationals' next bullpen and that should start this year.
Drew Millas
Catcher depth is something the Nationals have not had in a very long time. Drew Millas was part of the Josh Harrison and Yan Gomes trade with the A's and although he has not played above A-ball he has the tools to move quickly if needed. He does not strike out at a high rate, has an advanced approach at the plate with a knack for getting on base, and most importantly he can handle the defensive duties behind the plate.
This will obviously depend on things outside of Millas' control. If Riley Adams ends up being a backup first baseman option the Nationals will need another catcher to go along with Keibert Ruiz. Millas may be the perfect option for that spot if the Nationals do not decide to bring in a veteran backup.
The Future
We are not too far away from these names being much more exciting. Soon these lists will be filled with high upside guys like Brady House, TJ White, Armando Cruz, and whoever the 5th pick is this year. Until then the role players will be the focus and those players are just as important to the future of this team as the stars are.