The Five Most Exciting Nationals Players to Watch in 2023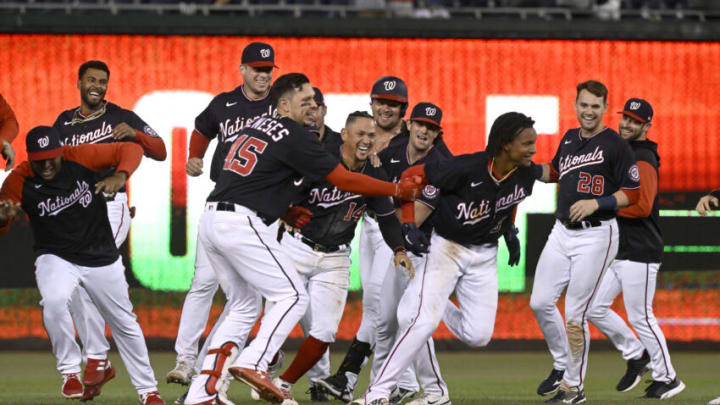 WASHINGTON, DC - SEPTEMBER 28: CJ Abrams #5 of the Washington Nationals celebrates with teammates after driving in the game winning run with a single in the tenth inning against the Atlanta Braves at Nationals Park on September 28, 2022 in Washington, DC. (Photo by Greg Fiume/Getty Images) /
It is important to adjust your expectations for the 2023 Nationals accordingly, but once you do, pressure-free baseball can be a beautiful sight. While the Nationals might not win a whole lot of games this upcoming season, there are plenty of reasons to be excited while watching, and arguably more reasons than the past two seasons. Obviously losing Juan Soto and fan-favorite Josh Bell hurt, but we have a rare opportunity to see some of these young Nats come into their own, as well as some familiar faces make their return. These players aren't just roster spots filled like some old, washed-up veterans we've seen before, but rather young, exciting Nationals players that have room to grow.
WASHINGTON, DC – SEPTEMBER 28: CJ Abrams #5 of the Washington Nationals celebrates with teammates after driving in the game winning run with a single in the tenth inning against the Atlanta Braves at Nationals Park on September 28, 2022 in Washington, DC. (Photo by Greg Fiume/Getty Images) /
These lists are always subjective, but this is my list so it is correct. We'll get a nice balance of the new, the vet, and everything in between. Without further ado, the five most exciting Nationals players to watch in 2023.