The Five Most Exciting Nationals Players to Watch in 2023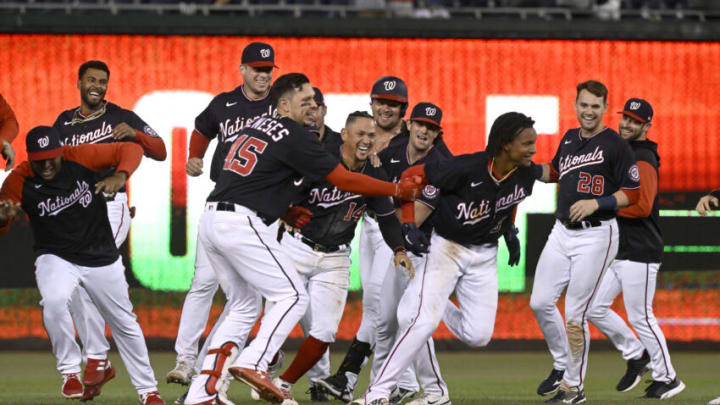 WASHINGTON, DC - SEPTEMBER 28: CJ Abrams #5 of the Washington Nationals celebrates with teammates after driving in the game winning run with a single in the tenth inning against the Atlanta Braves at Nationals Park on September 28, 2022 in Washington, DC. (Photo by Greg Fiume/Getty Images) /
WASHINGTON, DC – NOVEMBER 02: Stephen Strasburg #37 of the Washington Nationals speaks during a parade to celebrate the Washington Nationals World Series victory over the Houston Astros on November 2, 2019 in Washington, DC. This is the first World Series win for the Nationals in 95 years. (Photo by Patrick McDermott/Getty Images) /
5. Stephen Strasburg
This one hurts. I know his contract is an albatross and he will never come close to living up to it. I know that.
I don't care.
Stephen Strasburg has been my favorite National ever since he made his debut. Through all of the ups and the downs we've experienced as a franchise, he's been here through it all. He put his body on the line to win us a World Series and probably will never be the same because of it. I've been an angry pitchfork fan plenty of times, and will continue to do so when warranted in the future, but Stephen Strasburg will not be one of those times.
Stras makes the list, not because I expect him to be healthy, but because I think this will be it. He's tried to come back several times since 2019 and has gotten hurt almost immediately each time. I'm sure he will attempt to do so again in 2023, hopefully with a better outcome, but history tells me it won't be.
So we have to ask the question of if Stephen Strasburg will get the David Wright treatment – unable to comeback from injuries for years, and ultimately decides to hang it up, getting one final appearance and getting a send-off to a standing ovation.
Imagine Stephen Strasburg's final appearance to a sell-out crowd at Nats park. Imagine if it was to close a game, the final game at Nats Park in 2023. Chills.
I don't want to think about that too much just yet, so here's highlights of his dominant 2019 postseason.